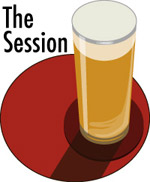 Naked Pint authors Christina Perozzi and Hallie Beaune will host The Session #35: New Beer's Resolutions (sorry, Mr. B) on New Year's Day.
So we want to know what was your best and worst of beer for 2009? What beer mistakes did you make? What beer resolutions do you have for 2010? What are your beer regrets and embarrassing moments? What are you hoping to change about your beer experience in 2010?
They add, "Don't be afraid to be revealing . . ."
Yes, those are the rules in a Facebook world but sometimes being embarrassed the first time is enough and it does not require reliving. We'll see what I'm up for Jan. 1.
If you'd like to participate send a link to your post to both christina@thebeerchicks.com and hallie@thebeerchicks.com.