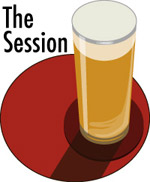 This is my contribution to Session #33, and the theme is "framing beer." Check out I'll Have A Beer for an explanation and to see what other bloggers are writing.
It's been a long, busy day and I've finally made it to a beer, Great Divide Hibernation, a beer I wrote about for Session #10. Just as good as it was two years ago. (A point of order: I'm drinking the 2009 vintage.)
Still lots of chocolate and spice early, with roasty character (both nuts and hints of coffee beans) on the nose and in the mouth. Caramel and dark fruits, also, their sweetness nicely balanced by an earthy/husky mouthfeel.
At this point in the day — which is already yesterday in the Eastern Time Zone — I have only one thought.
Some days you frame the beer. Some days the beer frames you.