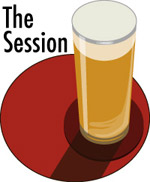 Jay Brooks has made his pick for our third round of Friday beer blogging.
The theme is "Mysterious Misunderstood Mild." He picked it to coincide with CAMRA's May promotion, Mild Month, writing:
"Saturday the 5th will also be National Mild Day on the other side of the pond. For those of us here in the colonies, we may have a harder time finding a mild to review. But several craft brewers do make one, even if they don't always call it a mild."
May 5 is also National Homebrew Day and Big Brew for homebrewers.
Although milds are usually, well, mild and low in alcohol, they don't have to be. The Beer Judge Certification Program (BJCP) classifies milds as English brown ales. The guidelines note that most are 3.1 to 3.8% abv, but lists Gale's Festival Mild as an example. That beer is 5.6% abv.
The Brewers Association Style Guidelines (for commercial brewers) on the other hand state that both pale and dark milds should be between 3.2 and 4% abv. English-style brown ales may be 4 to 5.5% abv.
The bottom line, as you may have noticed with Day of the Dubbels, is that we're not going to be style Nazis about this. Find a beer, drink it, write about it.