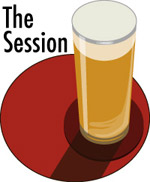 This is my contribution to The Session: Smoke 'Em If You Got 'Em, hosted by Lew Bryson. Check out his blog for links to other posts and the recap.
Last night we sampled a variety of smoked meat at Cooper's Old Time Pit Barbecue in Llano, Texas. What makes barbecue different in Llano is that pitmasters burn their mesquite down to coals before stoking the pits — then cook it directly over the coals, "cowboy style." Well, maybe. It seems there's some question about how Cooper's really cooks food for us, but I'll leave the barbecue exposes to others. Point it is that we had a dang fine meal, and if you say Texas barbecue to me, I think "smoke."
And if you say Bamberg and beer and I think "smoke." So for today's Session I've picked Schlenkerla Rauchbier Weizen, not as smoky as Schlenkerla Rauchbier Märzen or Urbock, but a reminder that Schlenkerla beers are first of all about smoke.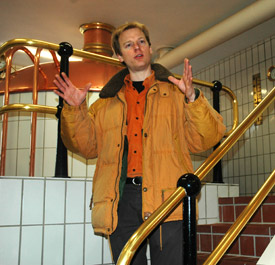 When I was in Bamberg in December it had not been long since Matthias Trum, who in charge of operations at Schlenkerla and is pictured on the left, attended a beer festival in Copenhagen with friends. He said he knew he was near the smoked beer section before he even saw a sign. "I could smell them (smoked beers) from 15 meters way," Trum said. "It was a homey smell."
Of course his home isn't quite like ours. As five generations of Trums before him, he lives above the famous tavern. And he oversees daily operations at the Heller Bräu brewery up the hill, which smokes its own malt for the Schlenkerla beers. The recipe for Rauchbier Märzen calls for 100 percent smoked malt. That's 50 percent to 90 percent more than most breweries use.
Schlenkerla brews the Weizen with 50 percent of the malt it smokes over beechwood and 50 percent (unsmoked) wheat malt. In contrast, Spezial Weizen — Spezial is the other Bamberg brewery that still smokes its own malt — contains 12 percent smoked malt.
In their book "Smoked Beers" authors Ray Daniels and Geoff Larson write that Schlenkerla Weizen doesn't leave a particularly strong impression of smoke. Trum agrees. "It starts to fade after a few sips," he said. I took another and told him I wasn't quite as sure. "Two or three glasses," he answered. "That's what Franconians call a couple of sips."
The first aroma is clearly smoke, not quite like from a campfire but also different than the barbecue pits we've been hanging around recently, fired by mesquite, oak, hickory or pecan. Soon traditional a fruity-banana notes of hefeweizen also appear, followed by spicy clove character. Smoke and banana flavors blend on the tongue, balanced by more cloves. After a few sips, I must admit, the scales tip toward the weizen flavors.
Sure wish they sold this beer at Cooper's.