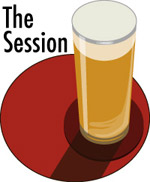 (This is my contribution to our monthly Session. Alan McLeod will be recapping them all.)
One Sunday last May, Ted Rice lifted a glass of beer homebrewed in the spirit of a Belgian dubbel.
"That's the aroma I'm looking for," he said, putting it to his nose.
This was literally one of the first batches brewed with the dark candy syrup that Brian Mercer (www.darkcandi.com) was just beginning to import from Belgium. Mercer had shipped samples to a few homebrewers and we invited them to enter their beers in the Enchanted Brewing Challenge. We'd judged the homebrew competition the day before at Chama River Brewing Co., where Rice is the brewer, and today we were drinking the leftovers while sitting on the deck at Il Vicino Brewing.
The dark syrup contributes rich caramel, rummy and dark fruit aromas we associate with beers brewed in Belgium. Westmalle started used caramelized sugar syrup in its Dubbel in 1922. (More about the syryp.)
Not surprisingly, it wasn't long before Rice (shown at work in this un-glamorous photo) brewed a dubbel with the syrup. He's since brewed two more, the latest of which is on tap now.
Tasting it as it matured, the consensus has been that it is the best Demolition Dubbel yet (to our count, this is the sixth edition since the first won a gold medal in the 2004 New Mexico State Fair). So I intended on Tuesday to ask Rice: "Are we there yet?"
I took along the previous version, bottled last summer for entry in the Great American Beer Festival and stored in a temperature-controlled chest freezer since October (we don't have cellars in New Mexico). The GABF version was bottled-conditioned, meaning fresh sugar and yeast were added to kickoff re-fermentation in the bottle and carbonate the beer to a level not generally available on draft.
And it was carbonated, much more than when I last tried a bottle six months ago. Beer came surging out when I opened the cap, onto Rice's desk in the brewery and the floor, leaving just enough in the 22-ounce bottle for three of us to sample. We quickly assured ourselves that an infection wasn't to blame.
We didn't find any off flavors or sourness, but one friend picked up a bit of tinny thinness in the finish and much preferred the one on draft. Even though the bottled version was cloudy (yeast in suspension) Rice and I decided we liked it better because of spicy character contributed by the yeast (this version was brewed with a different yeast than last). A bit of a surprise.
Is there a point (or are there points)? For one thing that when you brew in small batches not every edition has to taste the same.
For another, earlier this week Andrew at Flossmoor Beer Blog mentioned that American brewers "try to do a little of everything" (there's more in his post worth commenting on, but that will have to wait). Well, Rice has won seven medals at GABF or the World Beer Cup in five different beers styles. None of which are among the six regular offering at CR, so brewing an every changing lineup for the other four hasn't affected quality.
I'm not sure when we'll next see Demolition Dubbel, but I do know that it will be different again.
"I could do this the rest of my life (and still be working on it)," Rice said.