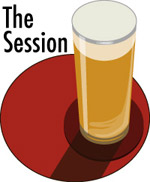 Your dream beer festival?
Free admission? Nothing but 100-point rarities you've never tasted before? Only local beers? Only brewers pouring? Only eight-ounce servings (or 1 or 4 or 16)? No lines?
Host Brian Yaeger has asked us to write about designing "your dream festival" for the 130th gathering of The Session, providing a list of criteria to consider (size, style, location, you get the idea). And he suggests that we conclude "with a note about why you can see trying to make this fantasy fest a reality or why you'll never advance this idea of yours beyond the Session post!"
The thought occurs to me that if you dream big you should find somebody else to take charge of execution. Or to phrase that idea as a confession: Part of what makes it a dream beer festival is that somebody else organizes it.
Ron Pattinson has the right idea. He assembled a collection of historic lager recipes he'd like breweries to make and serve at a festival. He found somebody — Florian Kuplent, diploma brewmaster and co-founder of Urban Chestnut Brewing in St. Louis — who thinks this is a good idea. UCBC has recruited breweries from across the country to make beers from these recipes. Planning is ongoing, but 20 to 25 lagers will be poured March 3 April 22 at the brewery's Grove location. Ron Pattinson will be there, and so will I.
This is a better festival than I could have dreamed up. It's the one I am most looking forward to in 2018; closely followed by Fonta Flora Brewery's State of Origin Festival in June in North Carolina (one I've wanted to get to the last couple of years, but didn't fit into the schedule). The one I wish I could have attended this past year would have been the Norsk Kornøl Festival in Norway.
That these began as somebody else's dream is fine with me. I prefer writing about other people's dreams to revealing my own.