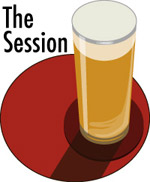 Host Jon Abernathy has announced the topic for The Session #121 is "Bock!"
You know, that "beer" that is really the stuff left at the bottom of the tank after a beer ferments. Not really.
Michael Jackson once explained how that myth may have come about:
A high gravity brew was made in March and laid down as a provision to be drawn upon during the summer months. When the warm weather was over, in September and October, the last of the stock was ceremonially consumed. This may explain the resilient folklore that bock beer is made from the sediment taken from vessels during spring cleaning. A laughable story, but perhaps based on a misunderstanding of the truth.
There's plenty beyond that myth to write about and Abernathy has lots of suggestions. The Session is March 3. I'll be in Minnesota that weekend for a meeting of hop growers, and I'm pretty confident I'll be able to find a bock and three.