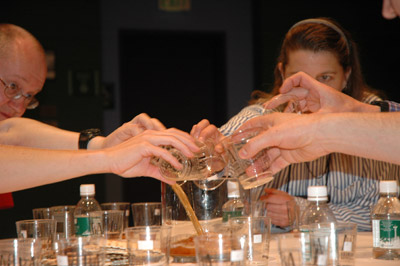 If you brew beer and you entered that beer in the World Beer Cup competition completed last week in Seattle you hope it did not suffer the same fate as the beer in this picture. That beer is being dumped, eliminated, bumped from the competition. In this case not fatal, because it happened in a mock judging session held for the benefit of the press. (Regular judging is closed to the public and press.)
What did we learn? That there is no perfect way to judge beer, but that the World Beer Cup/Great American Beer Festival system (they are the same) seems to be the best going.
A few years ago Michael Jackson – the world's leading beer authority – wrote: "There is no better way to appraise a beer than to sample it 'blindfold' (ie from numbered glasses, with no other identification). This is the way beers are judged in competitions. In my view, the best such competitions are the World Beer Cup and the Professional Panel Tasting at the Great American Beer Festival."
Yet the results still led to a flurry of posts on various Internet discussion boards. Many of the more interesting ones took place on the Burgundian Babble Belt, including this inside view.
In it, judge Joris Pattyn nicely summarizes some of the strengths and weaknesses. And there are weaknesses in judging blind. Kermit Lynch argues the point with particular passion in "Adventures on the Wine Route":
"Blind, yes, that does sum up the vision involved in this popular method of judging quality. The method is misguided, the results spurious and misleading. I realized that I could not trust my own judgment under such tasting conditions. A number of wines are set up side by side, tasted, compared, and ranked. A tally is taken. One wine wins. The others are losers. Democracy in action.
"Such tasting conditions have nothing to do with the condition under which the wines will presumably be drunk, which is at table, with food. When a woman chooses a hat, she does not put it on a goat's head to judge it; she puts it on her own. There is a vast difference, an insurmountable difference, between the taste of a wine next to another wine, and the same wine's taste with food."
Lynch goes on for paragraphs, making one solid argument after another, touching upon the point we all know that big flavored wines (and you could substitute beers right here) often shine in blinding tastings. "Those big rock 'em-sock'em blockbusters perform one function admirably – they win tastings," he wrote.
But one of the stars of this competition was Firestone Walker Brewing, which captured five medals and was honored as Mid-Size Brewing Company for the second straight time. Firestone Walker doesn't make big-ass beers designed to out-hop or out-malt the competition in a blind tasting, which is probably why those beers also aren't stars at the Internet tasting sites. Instead, thoughtful tasters end up with words like "subtle" and "nuanced" in their notes.
There are many other similar examples listed among this year's results. Yes, big-ass beers sometimes won, and they deserved to. Seems like we should pay attention to the results of a competition that manages to reward both sorts of beers.