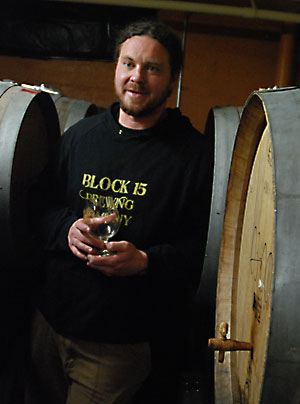 It was March of 2011 and Nick Arzner interrupted a story he was telling about the logistics of installing a coolship in the basement of a place built in Corvallis, Oregon, in 1926. He pulled aside a large piece of plywood that separated two rooms from the others in the labyrinth beneath the dining area of Block 15 Restaurant & Brewery, which he and his wife opened in 2008.
"We're two years into it, and we're infants," he had said heading down the narrow stairs. He brought the coolship down in parts, assembling it in the second of two wild rooms behind the makeshift door. The rooms already contained more than 50 barrels, filled with mixed fermentations.
Arzner explained he'd done the math and decided rather than participating in the Great American Beer Festival — a rite of passage for many new breweries — each year he would invest the money it would cost in his brewery. Walking into the room with his coolship, he said, "This is my GABF."
This year he entered beers for the first time. Turbulent Consequence, Peche won gold in the Belgian-Style Lambic or Sour Ale category.
Arzner wasn't there. He wrote in an email he'd like to some day, but "our small team was too busy to get away." Block 15 opened a second 20-barrel brewery and tap room during the summer, expanding its non-wild barrel program and distribution of its hop-forward beers.
He wrote that the gold medal beer comes out of his Turbulent Consequence program, which is based on traditional lambic production methods. The grist is unmalted wheat and pilsner malts "that undergo our best efforts of a turbid mash." Aged hops are added during a long boil, and then the wort is transferred into the coolship for 24 hours. It is racked into oak barrels, where it undergoes spontaneous fermentation. Peche is blended once a year. "I choose barrels in the late summer to add white peaches that I pick with my wife and daughter," he wrote. "I then mature the barrels another six of so months until the correct aroma, flavors, and acidity are developed."
He chose well.
"We are inviting what's around us to be in our beer," Arzner said back in 2011. "I think we want to get to the point where people say, 'Yeah, that comes from the Block 15 barrel program. There's something in there I know.'"