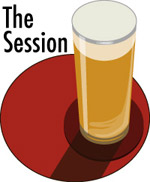 Natasha Godard at MetaCookBook has announced the topic for The Session #103: "The Hard Stuff." I confess I misread that first time, seeing "The Hard Way" and thinking it was some sort of riff on the infamous Budweiser commercial.
Instead there are two questions:
– What do you want people in beer culture to be talking about that we're not?
– What do you have to say on the topic(s)?
So put on your thinking cap and be there Sept. 4.