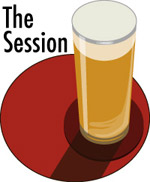 It took Jake Scholan more than a while to get around to posting the roundup for The Session #90: Beer Flight Club, and he explains why. When I pointed to the original announcement I suggested that the premise was that the gloves would come off. They did once again for the roundup.
There is a plethora of overwhelming banality. When flooded with it, it becomes too much. Too many poorly written posts. Too many posts that just tell you things instead of showing you. Too much of everything I've been complaining about, and not doing anything to fix.

I got about halfway through the posts, I closed my laptop and walked away.

I don't know where I'm going, what I'm going to do, or anything of the sort. But dammit, bloggers, you need to step your games up.
OK, that's not all that friendly. That doesn't it isn't worth reading. If you have some time to kill I suggest this combination:
– The roundup. (Granted my eyes are old, but at this point you'll need a break from the white type on black background — or do what I do, and put it in Pocket to read.)
– Alan McLeod's contribution to The Session #90. And consider spending $2.99 for The Unbearable Nonsense of Craft Beer – A Rant in Nine Acts.
– HB's post, which makes it much more clear, than the announcement, what he had in mind.
Now I'll return to deciding which links to suggest you read tomorrow. They won't be beer reviews, so maybe HB has a point.