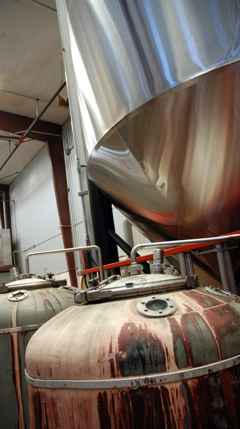 Mark Dredge poses a question at Pencil & Spoon that's a variation on one discussed at length in American blogs, but adds a new perspective when asking "Are we in a New Wave of brewing?"
He starts with film to make his point, specifically the French Nouvelle Vague, quickly moving on to "small groups of brewers, pushing each other forward, exciting and exuberant, articulate and literate in the language of beer, each with their own authoritative stamp which makes the drinker know that they've just enjoyed a beer by that particular brewery."
Of course what's new in the UK isn't necessarily new to us.
Dogfish Head are at the forefront of this 'movement' in the US and always have been – they are the Jean-Luc Godard of beer. The beer itself, the brand, the marketing, it all points towards a New Wave. Their 60, 90 and 120 Minute IPAs use the innovative technique of continual hopping (see: Godard's jump cuts).
OK, he's got to work a little on his history. While continual hopping makes a good story and good beer the real innovations in hopping — embracing true bitterness, making massive late hop additions for more flavor, dry hopping, etc. — started in California before Sam Calagione opened Dogfish Head Craft Brewery in 1995.
And California brewers aren't given up the hop crown easily. Just look at the IPA, Double IPA, Imperial Red and similar category results from the recently concluded Great American Beer Festival competition.
Beyond that many good questions posed (as well as in the comments, be sure to make it to Zak's). Right to the end: "Are we in a New Wave of British and world brewing? Or is this whole thing just the natural progression of brewing along its own course?"
Perhaps it's possible to answer yes to both.