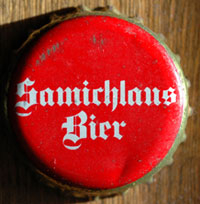 With a nod toward Bill Maher's "New Rules" as opposed to Miller's Man Laws …
THE BACKGROUND: A little over a week ago we were in California for some meetings. For evening diversion, Real Beer co-founder Mark Silva brought along vintage beers for "vertical" tastings (where you sample the same beer across a number of years).
In that spirit, Banjo Bandolas hauled down some old beers from the 1980s his uncle, Bud Lang, had given him. Lang was the first managing editor at All About Beer magazine, but these were not beers carefully cellared for a special occasion. They were beers that spent cool winters and hot summers in a Los Angeles garage.
Some were strong beers we might have hoped would stand up to those temperature swings but others – like the Millstream lager out of Iowa – had no chance.
The most interesting looking beers were a Thomas Hardy's Ale from 1983, Samichlaus from 1986, Mort Subite Gueuze from the 1980s (no date) and Anchor Old Foghorn from the 1980s (again, no vintage). They would all sell for a chunk on eBay, but Banjo pointed out that in good conscience he could never sell beer that he suspected would taste like we found out these did.
We drank the beers (not all at once) against other vintages that had been stored in friendlier conditions. In each case they were the oldest beer in the lineup, and in each case the least enjoyable. Maybe it was age, but mostly it seemed like the garage won.
The 1996 Samichlaus (brewed in 1995, packaged in 1996, a lager that had spent 10 years in the bottle) was spectacular, rich and complex. The 1986 – at the time the strongest beer in the world (Sam Calagione was still in high school) – tasted like prune juice mixed with vodka. The difference between the '83 Hardy's and an '89 Silva brought was as dramatic.
In each case, the well-cellared beers gained complexity, drank smoother, and acted like we hope beers will when we lay them down. The cooked beers were lifeless, not just wanting when it comes to carbonation, but one-dimensional, single-note beers.
One other thing they shared in common, and that was lack of good closure. The Mort Subite cork crumbled when I pulled it from the bottle, and on each of the other three the inside of the cap was rusted.
Giving us …
NEW BEER RULE #1: When you open a beer for a vertical tasting and there is rust under the cap it's time to seriously lower your expectations for what's inside the bottle.