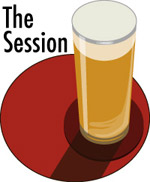 Angelo De Ieso has posted one of the most complete Session roundups ever for #62: "What Drives Beer Bloggers." And as a bonus (or not, depending on your tastes) he included photos.
As far as navel gazing1 goes, Friday's Session was above average (again, your mileage may vary). As he concluded:
"Lots of commonalities and dissimilarities amongst beer bloggers and why we elect to write and post about beer."
1 See previous references to blogging and navel gazing.