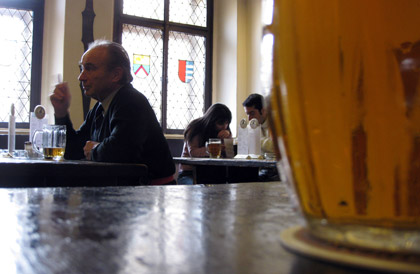 As long as you are picking up the current issue of All About Beer magazine to read Lew Bryson's article on session beers you might flip to the back page where they let me chat a bit about "The Importance of Drinking Local."
Considering it was filed from Bamberg the little essay should have been more focused. But more than nine months into our adventure I'm still figuring this out. Asking questions like . . . Does any old beer brewed "in town" qualify as local? Do we think more highly of local beers because they are "green," because they are fresher, because breweries are locally owned and the profits stay in town, because they use local ingredients? Can you still be a local brewery if ship your beer across the country?
No need to make it that complicated. You don't have to think about any of those questions if you want to walk into a local bar, talk to local people and enjoy the local beer. Works fine.
Meanwhile, I direct your attention to a series of posts by Rob Denunzio called "Localize it" (I'm linking to the fourth and last, but read them all). One nit to pick, Rob. More pictures of people to go with the beer. That's a lot of what local is about.