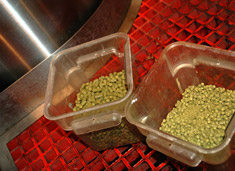 How much beer will those 10 tons of hops Boston Beer is selling to small breweries make?
Left to their own devices, these hops might provide proper bitterness, flavor and aroma for 40,000 barrels (31 gallons to a barrel) of craft beer. However most of the East Kent Goldings or Tettnang Tettnanger the brewer of Samuel Adams beer is offering for sale will end up part of recipes that include other hops, so their influence will reach, what to you think? Two, three times more?
Forty thousand barrels is a pretty impressive number, although the estimate could be high. If you want simple math, Boston Beer uses one pound of hops per barrel for its Boston Lager, so that's 20,000 barrels for 20,000 pounds. But Boston Lager is hoppier than a Weiss beer you might brew with the Tettanger and these EK Goldings have a higher percentage of alpha acids (more bittering punch) than the hops in Boston Lager.
So let's fantasize about 40,00 barrels. That's pretty much what Dogfish Head Craft Brewery made that in 2006. Oops, that might not be the best example. Pretty sure Dogfish Head needs more than 10 tons of hops to make 40,000 barrels.
More impressive is that it would equal the production of all these breweries combined in 2006: Brewery Ommegang, Allagash, Three Floyds, Weyerbacher, Founders, Green Flash, Live Oak, Midnight Sun, AleSmith, Jolly Pumpkin, Atlanta, Alpine and Surly. Most of these breweries grew in 2007, but that would have been a lot harder given the current hop situation.
Still if you really need a number to look at you could easily calculate how "kilograms of alpha" (that's the phrase some mega-brewers use) these hops will provide. The Tettnangers have already been measured at 4.2% alpha acids, the Goldings will likely be 6%.
One opinion, though. These hops deserve to be talked about using adjectives, not numbers.