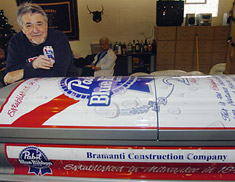 Did you hear the one about an Illinois man who plans to be buried in a coffin designed to look like a can of Pabst Blue Ribbon?
Bill Bramanti, 67, isn't in a hurry to use it — for now it makes an excellent cooler. Saturday he threw a party for friends and packed the future coffin with ice and cans of Pabst Blue Ribbon.
Am I the only one who finds it creepy he got in to see if he fit?
– JPD (Just Plain Dumb). The world's 10 most disgusting beers, Florida style, does not need further comment.
– Enough silliness. So here's a quick quiz: What do Rob Gerrity, Scott Kerkmans, Ron Kloth, Andrew Waer and Neil Witte have in common? Beyond the fact none of them is likely to be buried in a PBR coffin.
They are the first five to pass Certified Cicerone exam. Since January, 115 individuals have passed the online Certified Beer Server but these are the first to move on to the next level (Certified Cicerone, obviously).
The exam (conducted in San Diego during the Craft Brewers Conference) took three and a half hours and included 200 fill-in the blank and short-answer questions followed by three essay questions, a demonstration and 12 beer samples presented in the tasting portion of the exam.
Kerkams, as you may know, is the Chief Beer officer for Four Points by Sheraton. As you may not know, he grew up in Albuquerque .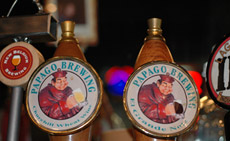 Kloth, as you may know, is the driving force beyond Papago Brewing, the Scottsdale, Ariz. beer establishment that's as good as its considerable reputation. The beer there only gets better over a game of chess on the set Ron first used as a kid (really). As you may not know, Ron is the only one of the first five Certified Cicerones to have spent a night or three in our guest bedroom (the one with dozens of vintage hop boxes).
Just something to think about if you are considering taking the exam.
– I like this idea. Five-word beer reviews. Not that it was to be via Twitter.