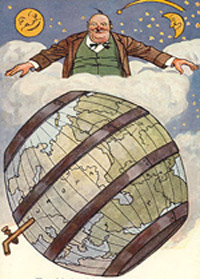 The Big Four of Big Beer worldwide — Anheuser-Busch InBev, SABMiller, Carlsberg and Heineken — sell 50 percent of the beer. As recently as the 1990s they had only a 20 share.
But here's the really interesting number, which Benj Steinman of Craft Beers News/BMI provided during the craft brewery conference: They earn 77 percent of the profit.
He pointed out that the United States "profit pool" is the largest in the world and still expanding, expected to grow $3 billion in the next three years, mostly because of cost savings at A-B InBev and MillerCoors. In contrast, he said that because of the intense fixed costs involved in expansion that "craft breweries" probably earn just 3 percent of the profit pool despite selling 5 percent of the beer.
Some links to take your mind off that curious business reality: