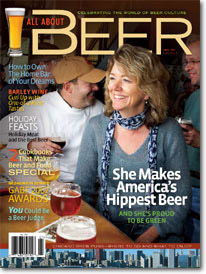 I'm not sure what to think of the cover for the latest All About Beer magazine that prominently features New Belgium Brewing co-founder Kim Jordan with a headline that reads She makes America's Hippest Beer.
Jay Brooks writes inside about the greening of America's breweries (New Belgium is at the forefront), but it's also made clear that "hippest" on the front refers to Fat Tire Amber Ale.
Look, I'm a fan of New Belgium (had Fat Tire with dinner in a restaurant Saturday) and have been writing for AABM for more than 14 years. I'm certainly not trying to pick a fight, but the hippest beer in America? In further considering the idea I came to a series of (eventually painful) conclusions:
* I have no idea which beer America's drinkers might vote hippest.
* I don't care if my beer his hip.
* Therefore I might just be old.
I finally figured this out after a comment from jesskidden in the discussion about "extreme beers":
I also noted that I found using "sick" as a synonym for "great" (especially for beer) to be confusing- "This beer tastes SICK!"
This wasn't a Belgian brewer talking about his lambic going through a bad phase. This was more like the e-mail I received from a brewer who talked about a store's sick selection, meaning I'd like it.
Hey, it's good that the next generation thinks beer ("craft," "extreme," "micro" or whatever) can be sick.
Now I'm wondering why I find the question of who brews the sickest beer more compelling than who brews the hippest.
– Philly Beer Week "officially" lasts 10 days (March 7-16), but it starts with a festival a week earlier. And it looks like they plan to pack at least a month's worth of events in. Quite a schedule at the website.
And they've even got this cute commercial:
– And a story that just makes you smile — The Seattle Times updates what Charles and Rose Ann Finkel have been doing since buying back Pike Brewing in 2006. Let's saw they aren't resting on their considerable laurels. "Now our overall goal is to make it a world-class brewery," Charles said.