MONDAY BEER AND WINE LINKS, MUSING, 02.20.17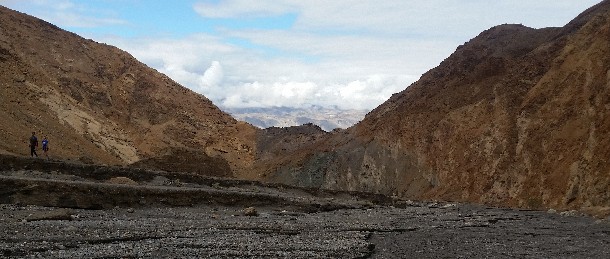 We spent our weekend in Death Valley National Park (too early for wildflowers; great for exploring canyons) but here's what hit my radar before we left the Midwest. Or I rushed to add Sunday evening with a minimum of musing.
Chris White of White Labs and Sequencing Yeast Genes.
A discussion of genetically modified (GM) yeast appears well into the story. Not likely happening short term, but White suggests it may eventually. About three years ago, when the project was just getting rolling, a scientist in one of the Belgian labs involved said, "Right now we have a few hundred genetically modified yeast strains patiently waiting in our laboratory's freezer." Having taken the temperature of brewers around the world, the Belgians changed their approach, working at breeding new strains just as other scientists have cattle and peas in the past. (In the current "Future of Beer" issue of All About Beer I compare and contrast this with Bootleg Biology). Putting aside the not so civil war that spins around genetic modification, it all makes me pause. Brewing science marches ahead all the time, whether it is a matter of finding more efficient ways to lauter or breeding higher alpha hops. But how "easy" should scientists make it to brew beer?
This is a philosophical question, so feel free to move on. Maybe one-third of the way in (in a section labeled "Phenols & Phenotypes") Chris White doesn't call out 4-vinyl guaiacol by name but that is the compound he is talking about here: "That phenolic negative is something our palate knows. In beer we describe that as Belgian-like, as people associate the taste of phenols with Belgian-style beers. Some people really don't like it." 4-vg, the result of the interaction of yeast classified as phenolic off flavor positive (POF+, and that sound downright delicious, don't you think?) is responsible for clove flavor in Bavarian weissbier and spice or clove in many beers brewed in Belgium. Any yeast collected in the wild with be POF+, but most domesticated yeast are POF- The journal report cited explains how that happened and why some strains are nonetheless POF+.
Striking a deal with some strains to produce just the right level of 4-vg is part of the art and skill of brewing. Should yeast providers be looking for strains that make it easier? At what point does the butterfly effect kick in? [Via Good Beer Hunting]
Portland Beer is Bigger Than Ever—But Old School Breweries Like Bridgeport Are Struggling.
Thirty years ago, full-calorie industrial lagers were caught in the middle, squeezed from above by light beers and from below from premium beers (often called "microbrews"). Is there a new middle now? "As the macrobrews swoop and drinkers go to the newest beers on the block, established craft brands are in a tough spot." (Jeff Alworth suggests the problems at BridgePort Brewing are company specific.) [Via Willamette Week]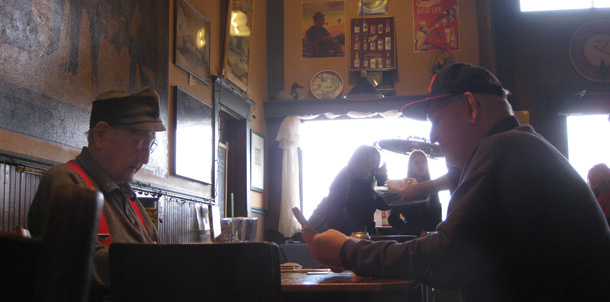 How to Spot a Cow.
"Each year New Glarus draws more than 250,000 people for brewery tours and to sample specialty beers in the sprawling beer garden. Many of the visitors also spill into the town to patronize local inns, gas stations, restaurants, and bars, creating an estimated economic impact of $40 million each year." The photo is from Puempel's Tavern, which serves a nice selection of New Glarus beers as well as restorative chili. You don't have to drink New Glarus beer, or beer at all, to hang out with your neighbors and play cards for hours. [Via Wisconsin Academy]
Babylonian Cuneiform And Brewing Patterns
Same as it ever was. Same as it ever was. [Via A Good Beer Blog]
Beer aperitivo in Rome, smoked beets in Berlin.
I declare it to be officially OK to be envious of Joe Stange because of the parts of the beer world he is visiting. [Via DRAFT]
What If You Don't Have to Make 'Good' Beer Anymore?
Consider this in tandem with the next story. [Via This Is Why I'm Drunk]
Why now is a great time to sell a craft brewery.
Of course you have to own one to begin with. [Via Craft Brewing Business]
LISTS
– 25 most important American craft beers ever
– The 6 Best New Beer Cities to Visit in 2017
– The Highest Rated Brewery In Every Country
– The 6 Best Craft Breweries in the Midwest
WINE
On Wine and Gender: A Critical History
This is the third and final article on Wine and Gender. The post includes links to the first two. Fascinating study. This bit comes with a really wonderful graphic: "Even if (Emile) Peynaud 'vigorously advocated an analytic tasting language,' and scorned fanciful wine metaphor outside of the most extreme cases, he persisted in the French tradition of dichotomizing wines via gender." [Via Gargantuan Wine]
when Hugh Johnson talks about natural wine.
You might recall that last week I pointed to a story where Hugh Johnson suggested alternative as an alternative to natural in describing some wines. Alice Feiring reacted to what he had to say thusly: "I think it's time for Mr. Johnson to take a break from garden writing for a minute to reconsider his words. Give us the courtesy of a more well-researched response instead of falling down the tweet drain." [Via The Feiring Line]
FROM TWITTER
— The Beer Nut (@thebeernut) February 15, 2017