MONDAY BEER LINKS, MUSING 09.04.17
Monumental — Remembering Michael Jackson's Impact on Belgian Beer 10 Years After His Death.
[Via Good Beer Hunting]
Remembering the Bard of Beer: Why There Will Never Be Another Michael Jackson.
[Via All About Beer]
Who was Michael "the Beer Hunter" Jackson.
[Via c/0 Hops]
What if Michael Jackson had never lived?
[Via Zythophile]
Some terrific stories published right on the 10th anniversary of the death of Michael Jackson, and don't overlook an earlier one ("Birth of the Beer Hunter") as well. Breandán Kearney's article, the first, examines Jackson's impact well beyond Belgium; Martyn Cornell had so much to say he had to write two stories; and the headline in All About Beer is correct. But personally, I find the best way to remember him is to read the words Jackson left behind. I wish I could link to a story called "The Pub Door" that appeared in Slow, Slow Food's journal. Instead a quick summary:

The story began with his mother picking up the pace each time they neared a pub in the town where they lived. "I was four years old," he wrote. "My legs could scarcely keep up the pace. I felt as though my feet would leave the ground. Had I been in a cartoon, they would have done. I would have been dragged horizontally. I doubt my mother would have noticed."
He later asked her what people did in the pubs, and she said only that she did not know. "Whatever was going on in there my mother seemed to deem worthy of Dante," he wrote. "'If it was that bad, it must be good,' I concluded. She pulled me away, but it was too late. Every time a pub door opened, I had noticed a distinct aroma. I had smelled the whiff of wickedness."
The first time he knowingly smelled Brettanomyces, the aroma was exactly the same. He wrote: "I have not yet managed to summarize in a tasting note the images that are triggered when I smell Brett: neither the big picture, the rise and fall of British industrial might, nor the cameo, the alienation experienced by my mother.
"If I could distill her story and mine, they would not be experiences shared and understood by every reader. We each have our own repertoire of memories and emotions triggered by smells and flavors. The most personal I can hint at, but little more. The more general I hope stimulate the senses."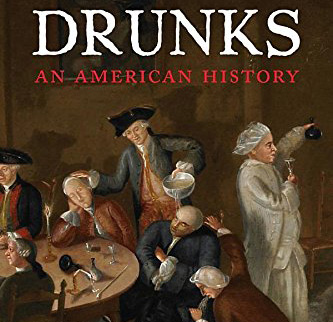 America's First Addiction Epidemic.
One theory of the origin of the word 'Manhattan' is that the Indians named the island manahactanienk—the 'place of general inebriation.'
A lengthy excerpt, meaning set aside half an hour, from the from-what-I've-read-so-far-very-sobering book, Drunks: An American History. [Via Longreads]
The Commons to Close.
You may recall that Jeff Alworth recently promised to write more constructive criticism, and although he suggested it would be more about problematic beer I thought of that when I read this.
They made unusual beers that never catered to mass tastes, which necessarily limited their audience. But they didn't send the simultaneous message that the beer was a rare and special treat that drinkers might have to stretch to appreciate.
Should they have been sending that message? Maybe it wasn't part of their DNA, the same DNA allowed them to create terrific, nuanced beers; beers from a place. Complicated isn't it? Jeff and I found window seats there when I was in Portland five weeks ago — maybe not such a good sign on a Friday afternoon. It will be curious, and quite frankly a bit sad, to visit that very place the next time I am in town and taste Modern Times beers instead. [Via Beervana: The Blog]
Cloudwater boss defends craft beer prices after £13 a pint uproar.
[Via The Morning Advertiser]
Pub defends decision to charge £13.40 for a pint of beer.
[Via Evening Telegraph]
On The Values Of Beer.
[Via Cloudwater Brew Co.]
More here about markups than you likely care about, but there's this: "If you spend £16 on four pints of bitter, or you spend £15 on three thirds of 9% DIPA you're getting the same amount of alcohol units for the same amount of money." And this terrific quote.
The fact we are not shining a light on that f**king massive elephant in the room, but we are scrutinising start-ups, is just a bit crazy to me. The scrutiny of our numbers is just not being levelled at 'the norm'.
Patti and Cindy at Jackie O's Brewery in Athens, OH.
Trapped in a demographic black hole? Not these two.
Patti is 67 years old. Her best friend, and partner in crime, Cindy, is 60. They both love beer, probably even more than I do. Patti and Cindy don't really give a shit about social norms. They're feminists. They marched on Washington in the 60s.
[Via Good Beer Hunting]
Barclay's Russian Imperial Stout, 1970.
Not to spoil the ending, but …
What amazed us most was how fresh it tasted, and how alive it seemed. If you'd told us it was brewed last year, we wouldn't doubt you. (Disclaimer: such is the dodgy provenance of the bottle, we can't say for sure it wasn't brewed last year.)
[Via Boak & Bailey's Beer Blog]
NEIPA
This New England-Style Pumpkin-Spiced IPA Is Going to Make You Mad.
Like we didn't see this coming. [Via Westword]
Where there's Murk, there's Brass.
So is this an issue and why is it happening? Most likely because it can happen and we have a new wave of brewers and drinkers who don't feel bound by a previous norm. They like it that way.
[Via Tandleman's Beer Blog]
WINE
Thieves bore into cellar from Paris catacombs to steal €250,000 of wine.
And they only took 300 bottles. [Via The Guardian ]
FROM TWITTER
Beautiful and mysterious things happen when Abbey Ale is in the open fermentor. #science #magic pic.twitter.com/QbYwHXsxty

— Brewery Ommegang (@BreweryOmmegang) August 28, 2017