– Single hop beers, an interesting geeky angle on beer. Jamie Goode, one of the most authorative wine writers anywhere, tastes single hop beers. He knows his way around, and appreciates, beer, so worth reading on its own.
I was further struck by the name on and his description of Marks & Spencer Hallertau Brewers Gold Golden Ale Single Variety Hopped Ale. 4% ABV, made by Crouch Vale Brewery, Essex. His notes: "This is a Bavarian hop. Very fruity style with some malty richness, a bit of spice and nice rich texture. Concentrated: an interesting-tasting lager style. 8 (out of 10)"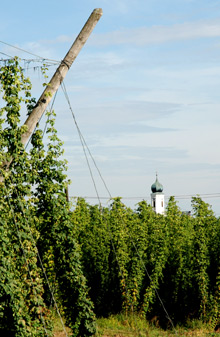 Brewer's Gold was bred in 1917 at Wye College 60 miles east of London and released for cultivation in 1934. With her, and her sister Bullion, breeder E.S. Salmon took hops in a new direction. He was the first to cross pollinate genetically distinct American hops with European hops. When Salmon began at Wye College, hops contained 4 percent alpha acids on average and 6 percent at the most. Breeders have since released hops with more than 20 percent alpha acids, almost always using cultivars that lead back to Salmon. They not only contain more alpha acids, but different odor compounds. Thus brewers can use "exotic" hop varieties like Citra and Mosaic from the United States, Galaxy from Australia, or Mandarina Bavaria from Germany.
It took 40 years some places and 70 others for distinct "American" aromas (citrus, piney, black currant, ribes) to catch on. I've never heard a beer freshly hopped with Old World varities (Saaz, Hersbrucker and friends) described as smelling like a cat's litter box, but the same single-hopped Citra beers some people embrace for their tropical aromas and flavors others find "catty."
Not much Brewer's Gold is grown in the Hallertau region of Bavaria — heck, not much is grown anywhere — but it is interesting to consider how it becomes different when it is a Bavarian hop rather than a Kentish hop or a Yakima hop.
One of the hop farms I visited in Bavaria while researching "For The Love of Hops" was owned by the Bogensbergers, the last farmers in the Hallertau region to grow Nugget, a variety bred in Oregon for its (then high) alpha. "It has a much better aroma than 20 years ago," Florian Bogensberger said. "All the imported varieties, they are very strong when they arrive, but they change."
They also grew American-bred Columbus, which is pungent and sometimes catty, for several years. "When it came over it was rough, but it turned into something smooth," he said.
– Nine beers many Americans no longer drink. The list is back, and it is easy to understand why Budweiser, given that its sales have fallen 29 percent between 2007 and 2012, is on it. However nobody drinks? Bud still sold 16.8 million barrels in 2012. That's 3.5 million more barrels that craft beers sales in 2012 (the official Brewers Association total for the year).
– Everything you wanted to know about Devon White Ale but were afraid to ask.
– The Session #83 topic announced: "Against The Grain." "I can find myself wondering sometimes when I've had an extremely popular beer, but haven't been all that 'wowed' … is it me? Am I missing something here? Was there too much hype? Could there be such a thing as taste inflation? If we really want to dive further into this, is it really only 'good" if a large portion of the craft beer community says it is or is our own opinion and taste enough?"
– A visit to Donnington Brewery. Ed Wray steps back in time, except as he points out it is fascinating this is a working brewery rather than a museum. Great photos.