MONDAY BEER, WINE & WALKING LINKS, MUSING, 09.19.2016
How the Denver beer scene made a German beer connoisseur realize he didn't know much after all.
I sure hope there is a follow up from Fabian Reinbold, an editor at German magazine Der Spiegel and right now an Arthur F. Burns fellow at The Denver Post. In this article he writes mostly about beers themselves (within the context of his own palate). I'd really like to read his observations about the settings where they were consumed. [Via Denver Post]
The curious case of sports writers who switch to wine.
[Via Columbia Journalism Review]
Craft Beer and Writing? Not the Unusual Pairing You Imagine.
[Via University of Kentucky News]
I saved the Columbia Journalism Review article a while back because I intended to write about storytelling and selling beer. But because I just did a reset on the mission statement here (which restricts navel gazing to Mondays) and because I want to repeat, while you still have time to make plans, that you'll have a great time if you head to Lexington for Craft Writing: Beer, The Digital and Craft Culture now seems like the time to consider what the CJR story has to say about writing about sports and writing about alcoholic beverages.
The general consensus: It's the storytelling, stupid. Both the style and the substance. Each topic begs for savvy but conversational prose. "Sportswriting is one of the freest forms of writing in journalism," (Robert) Whitley says. "Editors will give you a little more license to be descriptive, and to ascribe a point of view to a story. You're trying to create a narrative, and that ties in beautifully with wine writing."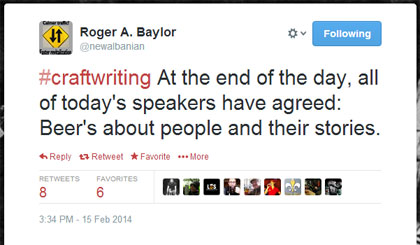 I am more than pretty sure that telling stories will be discussed again in Lexington because it was a length last time. Which is why I once again find myself asking this question: And the difference between beer marketing and story telling is what?
Beer and bibles don't mix.
So there's this headline reads "Thou shalt not microbrew" and a graphic representation of "craft breweries" per 100,000 people, but how much different is that listing than no adjective breweries per 100,000? When it comes to being opposed by religion aren't beer and craft beer one in the same? Did it become a big deal because somebody added the word craft? [Via The Economist]
The 7 Best Craft Beer Cities To See Fall Colors.
… and eat asparagus while enjoying a pedicure. In more than 10-plus years here I have been guilty of compiling an occasional list, and there was a time when I would shake my fist and them from my lawn, but now I generally shrug. Or, in this case, laugh. [Via VinPair]
Why Master Sommeliers May Be Less Susceptible to Alzheimer's.
This is not grouped with the wine links because it seems to me to be more of a sensory matter. And it leaves me wondering if scientists check to see if something has been studied before they use grant funds for research. So this is what I learned reading What the Nose Knows: The Science of Scent in Everyday Life (published in 2008) and reported in For the Love of Hops:
For instance, although olfactory skills begin to deteriorate when most people are in their forties, many perfumers get better as they age. The most common estimate is that humans can differentiate between 10,000 and 40,000 odors. However, trained perfumers, whisky blenders, and chefs may be able to discriminate upward of 100,000 odors. One study examined brain activity in wine sommeliers and nonexperts as they drank wine. The sommeliers showed activity in areas associated with cognitive processing and in an area where taste and smell information is integrated. The nonexperts' activity was in the primary sensory areas and zones associated with emotional response. Research has shown practice making judgments about aroma leads to changes in brain function.
[Via Eater]
WINE
You can't just buy "beer" (or "wine") for your friends anymore.
The takeaway: "To the non-oenophile, though, our love of wine is pretty much the same as pedantry. Same thing for beer enthusiasts." [Via The Gray Report]
OT: WALKING (BECAUSE IT'S MY BLOG)
Why Walking Helps Us Think.
[Via The New Yorker]
'We need human interaction': meet the LA man who walks people for a living.
[Via The Guardian]
FROM TWITTER
Like all things in brewing clarification is a trade off.It does remove flavour but protein affects the way you taste and yeast has a flavour

— John Keeling (@FullersJohn) September 15, 2016