07.22.19, BEER AND WINE LINKS
1) The Breweries Cooling And Heating Up For Summer.
We drove to Louisville this past weekend for GonzoFest and related exhibitions at two museums, but also traveled a bit of the Bourbon Trail along the way. We toured Willett Distillery, plenty impressive with eight barrel warehouses but dwarfed by nearby Heaven Hill Distillery. And then we drove by Jim Beam, which is simply massive, at first glance stunning in a similar way to coming around a bend of Interstate 55 in St. Louis and first seeing the Anheuser-Busch brewery.
Size and context matter. That's clear in the second (but #1 here) of two stories analyzing beer sales during the first six months of 2019. Consider this: Dollar sales of the top 10 craft breweries in grocery, convenience and other chains stores tracked by the research firm IRI did not match Michelob Ultra's revenue. And then this: there are more than 7,000 other breweries to consider and the off-premise accounts such as those IRI tracks only about 60 percent of craft beer sales. The Brewers Association is in the process of compiling results from a midyear survey of all its members and those numbers will make it easier to understand how they are doing in aggregate.

To return to one reason the sight of the Jim Beam campus took my breath away. The brewers I recently visited in Brazil answered in liters when asked about how much they make. American brewers talk about barrels (there are about 117 liters in a barrel). I spent a few moments doing math, but almost every time my first thought was the same — these breweries are tiny.
Compared to breweries that make the IRI top 500 an awful lot of American breweries are similarly small. John Bryant of No-Li Brewhouse in Washington recently used the word "chaos" to describe the state of the beer industry in 2019. He also said, "There is a lot of panic right now." The evolution of No-Li is educational. Industrial, craft, big, small, smaller, tiny. Different business models, so it should be a surprise how many ways their beers may differ.
LAGERS
2) Chicago beermakers brew up a mystery: Where did all these dark lagers come from?
3) Pilsners Are an Elegant Outlier to the Craft Beer Hype Machine.
4) Brewer's Perspective A Proper Helles: Toeing the Line between Bland and Sublime.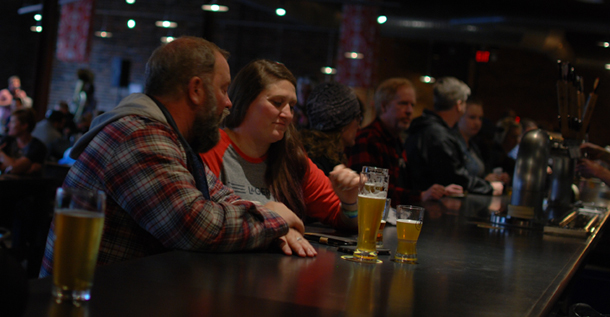 Here are Ashleigh Carter and Bill Eye from Bierstadt Lagerhaus in Denver, drinking lager at Urban Chestnut Brewing in St. Louis. A bit more from what Carter writes in 4): "It's barely there. When you drink one of them, it might not be shocking to you that it's good or bad or anything (and bland is the right word) because a proper one is so clean. By the time you get to your third one, you realize there isn't anything you'd change about that beer."
WINE
FROM TWITTER
Some folks are absolutely serious about preferring animals to humans. You can tell by their participation in or responses (or lack thereof) to things like systemic racism. It's a shame to be able to go into a taproom where dogs are more welcome than black folks.

— Urban Craft Curiosity (@tonitwopint) July 18, 2019
@patto1ro @PeteBrownBeer @BoakandBailey
Potentially exciting news for students of the history of the IPA beer style…https://t.co/NYJBSmSnJg

— Dronfield CAMRA (@DronfieldCAMRA) July 18, 2019
Just got a press release titled "Absolut Gets Juicy This Summer," which I'm taking to mean that the vodka company has expanded into hazy IPAs.

— Stephen Beaumont (@BeaumontDrinks) July 18, 2019
L ? L pic.twitter.com/HBdUA2ARPL

— austie (@austinlouisray) July 16, 2019
Adding social and environmental sustainability into the assessment of fine wine, by ?@newbordeaux?. https://t.co/9UeMFRusfO

— Eric Asimov (@EricAsimov) July 18, 2019
MORE LINKS
ReadBeer, every day.
Alan McLeod, most Thursdays.
Good Beer Hunting's Read Look Drink, most Fridays.
Boak & Bailey, most Saturdays.