07.15.19, BEER AND WINE LINKS, MUSING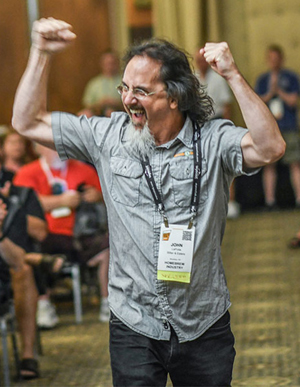 1) How Homebrewers Built New York.
I'm not sure I agree with this premise: "The recent explosion of new breweries in New York is totally consistent with what's happening elsewhere—but homebrewers being at the center of things is not." It's pretty easy to find breweries with homebrew connections just about everywhere, clubs are often incubators and that's not only in the United States. The club house for Cerva Serra in Caxias, Brazil, is downright amazing. There is a nano-size brewing system members can reserve, there are two large fermentation cellars (one for ales, one for lagers) and a roomy classroom area. I don't mean that this isn't an interesting story or to denigrate what has happened in New York. I wish I had not already left Homebrew Con a couple of weeks ago when Bitter & Esters was chosen homebrew Shop of the year by the American Homebrewers Association. The Brooklyn shop has certainly been at the center of whatever has happened in the five boroughs. That's co-owner John LaPolla on the right, looking pretty happy about the award.

2) Finding farmhouse ale in Norway.
Before you start planning that trip, this from Lars Garshol: "The first thing to note is that farmhouse brewers are home brewers. They're not selling their beers, they don't have tasting rooms, and if you're going to see the brewery or taste the beer you need to visit them at home. That rather limits the tourist potential, unfortunately, which is why this list is as short as it is. Norway basically isn't ready for beer tourism, and farmhouse-style beer is not easily available here."
3) Mad Fox Closing, Surprising Fans.
4) Kräftig Beer Maker Announces Plans to Close.
5) Sorry, the closing party ended Sunday.
Do we call this a trend? Three different circumstances, and there are more out there like these. One troubling thought from 3): "Brookland Pint Beverage Director Jace Gonnerman said, 'The closure of @MadFoxBrewing is an exclamation point on a beer scene that has been trending this way for awhile: hype over quality. Making really, really good beer in traditional styles is no longer enough.'"
6) Two years, two hundred pubs.
7) How to Build a Perfect Pub.
8) Average pleasures.
In 6), Boak & Bailey write, "The thing is, your local is your local. Part of the magic of pubs like The Oxford in Totterdown or The Plough at Easton is that they reflect and serve the communities they're in." And in 7), Jeff Alworth concludes with this, "For those of you who love a neighborhood pub that actually reflects the neighborhood, I highly recommend a visit." And in 8) Richard Hemming suggests, "(T)here is great pleasure and satisfaction to be found in the average (wine)." They are a reminder that "wine provides a simply daily pleasure." As may your local.
9) 2019 Trends & Headlines We Didn't See Coming.
Hang out with brewers from Central America, from Poland, from South America, wherever, and they want to talk about trends in North America for obvious reasons. This should scare them.
WINE
10) The Wine Glass: Form, Function, & Fragility.
A really long read, but the quote at the start is my top take away: "Can you imagine wines being properly tasted before the advent of clear glass? . . . Perhaps the truth of the matter is that fine wine could only start to make its appearance at the turn of the eighteenth century as a result of glasses being made that were better suited to tasting."
FROM TWITTER
Beer 2019 pic.twitter.com/yVuTAMgwSY

— Scott Metzger (@beermonkey) July 14, 2019
MORE LINKS
ReadBeer, every day.
Alan McLeod, most Thursdays.
Good Beer Hunting's Read Look Drink, most Fridays.
Boak & Bailey, most Saturdays.