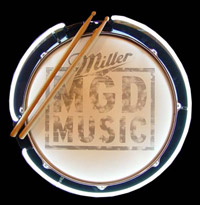 Miller Genuine Draft is partnering with the Rock and Roll Hall of Fame to sponsor music artist interviews and performances. The series is called "The Craft," which should get the attention of small breweries, and particularly their fans, who figure the word craft belongs to them.
"The Craft" series of interviews, developed in conjunction with promotional agency Arc and executed by GMR Worldwide and digital agency Digitas, aims to explore the experiences that shaped the songs written by popular musicians. (The Craft refers both to songwriting and brewing beer.)
"People got the connection between making music and making beer," said Jonathan Sickinger, associate manager for sports and entertainment marketing at Miller. "And they wanted to know more about both."
For years we've appreciated that Miller supports live music. I've got a poster of Terence Simeon from an MGD-sponsored tour above where I store grain for homebrewing.
But I also know when you ask "What is craft beer?" you get passionate responses. Witness the 67 comments at Seen Through a Glass or a shorter discussion here. No need to revisit that topic.
Instead a short story from Tony Simmons of Pagosa Springs Brewing that I used in the little essay about if your brewer is an artist.
Simmons was once in a class at Siebel Institute with a woman who worked at Miller Brewing. Out of curiosity, not intent, he asked her what it would take for him to get a job brewing at Miller.
"You couldn't," she told him. "We hire engineers and train them to brew our way."
So you think that is the way a great guitar player interviews drummers?