"I think a lot of people who are coming up in the craft brewing world — since, as I mentioned, we're sort of on the fringe — they're either hippies or they're into metal."
– Barnaby Struve, vice president, Three Floyds Brewing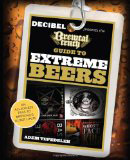 I guess that means I'm a hippie, because I'm not familiar with bands like Pig Destroyer and I would not think to pair Jester King's Funk Metal with "Suck on This" by Primus, although intuitively it makes sense.
In the introduction to "The Brewtal Truth Guide to Extreme Beers: An All-Excess Pass to Brewing's Outer Limits"
author Adem Tepedelen writes "I've always equated craft beer drinkers with the segment of the population that isn't necessarily listening to Top-40 radio and consuming mainstream music." Me, too. It just so happens my outside the mainstream choices don't include metal. In fairness, I'm not sure how easy it would be to assemble an entire book pairing alt.country music and beer. (Perhaps you'd start with James McMurtry's "Choctaw Bingo" and Lagunitas IPA, because when we last saw McMurtry that's what he was drinking on stage and he does sometimes refer to himself as a beer salesman.)
In the December issue of Beer Advocate magazine Andy Crouch writes about how overwhelming and confusing the beer aisle (which usually occupies a lot more than an aisle) at your favorite store has become. He suggests breweries need to find a sensible way of naming and describing beers to give drinkers a decent idea of what the beers they are thinking about buying might taste like. I don't see that happening soon. Instead, expect it will be harder to make sense of "beer," particularly for a newcomer.
That means there's likely room for specialty books such as "The Brewtal Truth Guide to Extreme Beers" and certainly that we'll get more general guides. A quick scan through Michael Jackson's "World Beer Guide," his "Beer Companion" and later "Ultimate Beer" illustrates there are at least three ways to attempt to organize the topic.
Three recent newcomers include "The Complete Beer Course: Boot Camp for Beer Geeks: From Novice to Expert in Twelve Tasting Classes" by Josh Bernstein, "The Pocket Beer Guide: The Essential Handbook to the Very Best Beers in the World" from Stephen Beaumont and Tim Webb, and "World Beer." (At this point you might want to skip to the disclosures at the end.)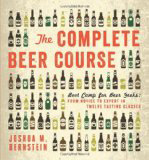 Each of these books seeks to educate a novice and satisfy the more experienced, but Bernstein is the first to turn the adventure into what could be a semester. In fact, the first class is about the essentials and the last about pairing beer and food, with the middle 10 focusing on styles — working through the spectrum of flavors much as you would a rack of tasters at a brewpub. You own the book, so it's not like you have to think, "I can't cut class this week because it's about IPAs and that's the real reason I signed up."
I'm not sure if anybody reads a book like this in a strictly linear fashion, because it's too tempting to flip ahead and see which American Porters he chose to feature (The Duck-Rabbit Porter and Deschutes Black Butte Porter) or which brewery in the Class 2 (Victory Brewing; the chapter focuses on the "pleasures of cold fermentation"). However, it's best at some point to flip through every page, because "quick facts" are splattered all about, just waiting to be dropped into a friendly bar conversation.
"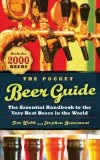 A year ago, Webb and Beaumont organized the beer world geographically in "The World Atlas of Beer: The Essential Guide to the Beers of the World." Lavishly illustrated with maps and photos that was a coffee table book. "The Pocket Beer Guide" is much smaller, although your pockets need to be pretty good size to hold it (it is 4 1/2 inches by 7 inches, and more than 3/4s of a inch thick; much fatter than any of Jackson's pocket guides), and the plan is to update it regularly.
It will appear familiar to those who used Jackson's pocket guides, with quick tasting notes and star ratings, although generally there is a bit more information about each brewery and quite a few more breweries (thus the thickness). The one sentence review: if you are thinking about visiting Lithuania it is an essential book, and otherwise it is pretty dang useful.
"The Brewtal Truth Guide" is less essential, but plenty of fun to read. Tepedelen writes a column for Decibel (America's only monthly metal magazine) as well as beer articles in more beer focused publications. Each of six chapters includes an interview with a brewery type (including) and a musician type, with a bonus Q & A with Tomme Arthur about the Ultimate Box Set Lost Abbey released last year. More than anything it is an introduction to 100-plus "extreme" beers, each of them paired with a song. Tepedelen explains, "The majority of beer-drinking Americans will never appreciate them, but like the thousands of independent metal bands who … (know) they'll never sell a million copies or be played on mainstream radio, extreme beers are made for the diehards who are open-minded and want something well beyond the status quo."
I'm rearranging my bookshelf now to accommodate these books, sliding "Complete Beer Course" into a spot next to Zak Avery's "500 Beers" and "The Brewtal Truth" between "The Bedside Book of Beer" and "Christmas Beer" because it's a grab-it-and-read-a-few-pages-at-a-time book. "The Pocket Beer Guide" goes on the reference shelf alongside "Amber, Gold and Black."
*****
The disclosure stuff. Although I mentioned "World Beer," it is not reviewed because Dorling Kindersley paid me to write most of the US entries. As you would expect in a DK book it weighty and generally what people call a coffee table book.
Beaumont and Webb also paid me for few dozen entries in the "Pocket Guide" but because it will be ongoing, and likely the best way (at least in print) to track the changing beer world, it deserves your attention. Besides, and more disclosure, I'm more likely to be influenced to write something positive by my friendship with the authors, and that Webb wrote the foreword to one of my books, than what they paid me (let's just say you wouldn't quit your day job for the gig). So there's one more reason not to trust my "review."