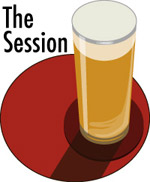 I think I put on five pounds this week just reading or thinking about food and beer together.
Lucy Saunders' new book
arrived in the mail this week, I received a press release about a beer cookbook out in January and I chatted with a chef who has a different, and I think excellent, idea on how to approach a beer cookbook.
So I couldn't help thinking that in just two weeks we'll be loosening our belts for The Session #8, since Beer Haiku Daily has made the theme Beer & Food.
I'm already warming to the task.
Today a bit about Tuesdays at one of my local brewpubs, Chama River Brewing in Albuquerque. Each Tuesday the restaurant offers a three-course dinner, with the selections changing once a month. Customers can order just the meal ($25), the meal with wine ($45), or the meal with beer ($35).
Most often the beers come from Chama's six-beer regular lineup. I've copied the August menu here because it included a seasonal.
1st Course
Chorizo and Wild Mushroom Strudel
Spinach Salad and Port Wine Syrup
Beer Flight: Paired with – Demolition Dubbel
Wine Flight: Paired with – Vivac "V" Reserve Merlot
2nd Course
Seared Sea Scallops
Apple and Belgian Endive, Fingerling Potatoes and Brown Butter
Beer Flight: Paired with – Copper John Pale Ale
Wine Flight: Paired with – Casal Garcia Vinho Verde
3rd Course
Chocolate Banana Wontons
Coconut Dipping Sauce
Beer Flight: Paired with – Sleeping Dog Stout
Wine Flight: Paired with – Rocha White Port
Part of a family of restaurants, with siblings that earn Wine Spectator awards, Chama offers a well chosen and reasonably (but not cheaply) priced wine list.
But I always drink the beer.