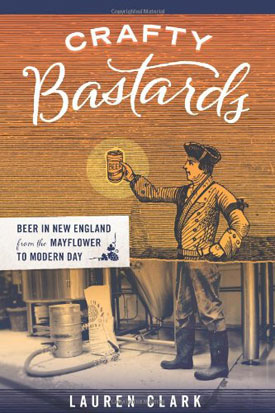 In case you missed the press release, 75 percent of Americans now live within 10 miles of a brewery. (There are 15 within 10 miles of our house — and, of course, more that will open soon).
The country has gone from about 100 to 3,000-plus breweries in little more than a generation. And, it appears, books must follow. More specifically, more local beers seem to lead to more books about local or regional beers.
Of course many of these are "guide" books. Although there were a few before "Pennsylvania Breweries" with that one Lew Bryson laid out a template that Stackpole Books continues to use today (such as with "Colorado Breweries"). Globe Pequot Press since began its own series (see "Beer Lover's the Carolinas: Best Breweries, Brewpubs & Beer Bars"), and there are plenty of interesting "one-offs" from regional publishers (for instance, "Locally Brewed: Portraits of Craft Breweries from America's Heartland" and "A Perfect Pint's Beer Guide to the Heartland").
But what I find interesting is what you find when you begin playing "six degrees of separation" at Amazon. Start with "Crafty Bastards: Beer in New England from the Mayflower to Modern Day" and see what comes up under "Customers Who Bought This Item Also Bought." It could be back to a guide-like book such as "The Great Northeast Brewery Tour: Tap into the Best Craft Breweries in New England and the Mid-Atlantic" or into the
History Press family of books, which are whole new territory. These include books such as "Upper Hudson Valley Beer" that have covers that look the same but stories inside that are quite different.
What I like about these books is that limiting the scope does not limit the thinking. "Crafty Bastards" unfolds in basically chronological order, but the chapters are labeled Water, Malt & Hops, Barrels, Ice & Steam and so on. This makes for a easy to absorb narrative. Although this is a book that a beer drinker in Missoula, Montana, might enjoy and one that a total beer geek in Massachusetts will learn from it seems like one best suited for a casual beer fan in New England. That is as it should be. A local book about local beer to be read in your local.
*****
This is something of an aside. Despite the title the book does not, thankfully, dive into "craft versus crafty." However author Lauren Clark does go into detail about the various controversies swirling around Boston Beer Co. and Samuel Adams in the mid-1990s — among them that some New England brewers did not care for seeing a beer labeled "Boston" when it was brewed under contract outside of New England. She writes:
"Another reason craft brewers learned to stop worrying and love Sam was that 'made in Pennsylvania' vs. 'made in New England' was a non-issue for the vast majority of craft beer drinkers, who cared more about whether the liquid in the bottle tasted good and was priced fairly. (Andy) Pherson of Long Trail recalls, 'We were all beating the drums against Samuel Adams, because the beer wasn't made in Boston. Then we all stopped, because we found that consumers didn't really care.'"
A fair enough reminder that not everybody values local the way I do.