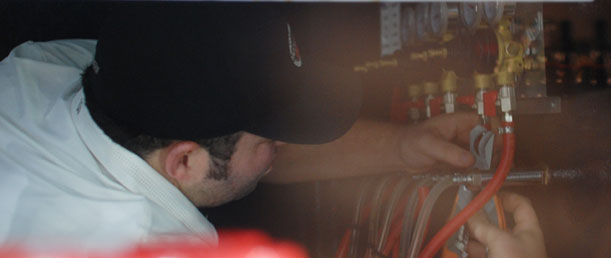 More than an hour into the Modern Brewery's launch party Friday at Craft Beer Cellar Clayton CEO/president Beamer Eisele was still in the store cooler, struggling to get a third keg of the brewery's beer online. He'd already been back to the brewery to pick up the proper equipment.
"Now I can enjoy the party," he said after the final beer was flowing. A few minutes later he and partner Ronnie Fink (that's Eisele above and Fink below) looked at the line for beer at the rather small tasting bar in the back of the store and at friends and CBC customers pretty much filling up the place. Eisele sighed, then headed back to the brewery, this time to pick up another keg.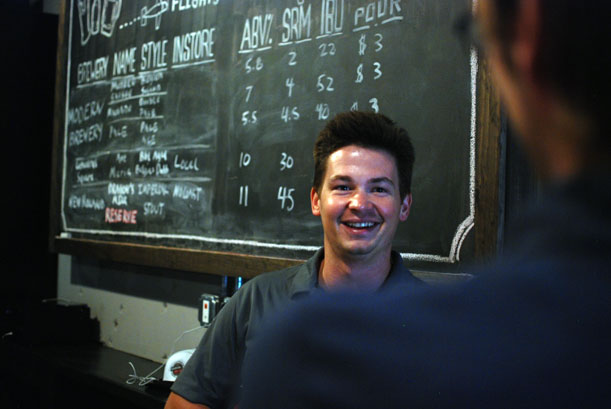 Now that Modern Brewery is officially open there are four breweries within four miles of our house. When we moved to Clayton (ZIP Code 63105) three years ago there was one.
Clayton CBC, the western-most outpost of a chain that started in Massachusetts, just opened in May. It's a 15-minute walk from there to The Wine and Cheese Place, the best retail store in Missouri, according to Rate Beer members and many others. For its weekly tasting Friday, Wine and Cheese was pouring Cathedral Square Ave Maria Bourbon Barrel Aged, Alpha Brewing Lapsided, Summit Brewing Sparkling Ale, Brasserie La Goutte D'Or La Mome Saison Orientale, and Brouwerij Verhaeghe Barbe Ruby Kriek.
Last month, Book & Bailey wrote that "For some, local is enough." Local is important to me. It really does make a beer taste better (no I'm not suggesting it is something that might be replicated in a blind taste test). I'm pretty sure that it is "enough" to build a business on, but that "enough" must includes a decent level of skill in the brewhouse. There are too many quality beers, local and not-so-local, close at hand not to notice when others don't measure up.