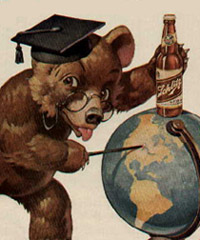 Were I inclined to make predictions (not likely) about the Top 10 Beer Trends of 2008 then one would somehow have to include the words "education" and "certification."
For education, I'd start with Jan. 31 and Feb. 1 in Chicago for the Siebel Institute of Technology's course on Professional Beer Tasting & Styles. More about that in a moment, because the syllabus gets a little long.
Certification I: Ray Daniels posts that the online exam for the first level of Cicerone certification should available soon.
Certification II: The Master Brewers Association of America quarterly newsletter reports the board of governors "approved a new MBAA-sponsored education program targeted at individuals
in the wholesale and retail beer trades."
The program's goal is to improve the image of beer and broaden its appeal by better maintaining its freshness throughout the distribution chain and by increasing the knowledge of beer styles and proper serving techniques for those who distribute and serve beer. The Publication Committee is charged with producing a new reference book that will provide the relevant and necessary information to educate applicants to be certified under the program. Individuals applying for certification must demonstrate a comprehensive knowledge of beer by passing a rigorous exam based on the contents of the reference book.
Back to the course at Siebel, Randy Mosher (author of "Radical Brewing" and the upcoming "BeerSense: Understanding the Pleasures of the World's Best Drink") put it together. The presentations include:
Section 1 – Introduction
* What is Beer?
* Beer in Context: Lifestyle & Diet, Culture, Seasons
* A Little Beer History: Beginnings, Medieval to Modern, The American Beer Story, Craft Beer Revolution
Section 2 – Sensory
* Techniques for Sensory Evaluation:Practical Tips for Evaluating Beer, Sources of Flavor & Aroma
* The Taste of Beer: Beer Aroma & the Flavor Wheel
* The Formal Tasting: Types of Tastings, Competitive Judging, Evaluation Forms
* Informal Tastings: Settings & Methods, Tasting Glasses
Section 3 – Beer by the Numbers
* Gravity / Strength of "wort", Alcohol, Color, Bitterness,
* A Question of Balance
Section 4 – Common Defects of Beer
* Including tasting of beers spiked with off-flavors: Raw materials, Brewhouse, Fermentation/maturation: Yeast, Packaging,
* Mishandling, Beer Infection: Age, draft system problems, Light
Section 5 – The Process of Brewing (and why you should care)
* Beer Ingredient Analysis: Malt, Other Grains & Fermentables, Hops, Water, Yeast, Other ingredients
* The Brewing Process: Malting, Mashing, Boiling, Chilling, Fermenting, Maturation, Filtration, Storage/Shipping
Section 6 – What Is a style?
* An introduction to the definitions of beer styles, followed by more detailed presentations of the major beer styles. The styles presentations feature a combination of lectures, PowerPoint slides and numerous tastings, giving a thorough overview of the character of the majority of beer styles including:
Section 7 – Ales of the United Kingdom
Section 8 – Lager
Section 9 – European Ales
Section 10 – Belgium & France
Section 11 – New American Classics
Section 12 – Serving & Storing Beer
Section 13 – Beer & Food
* Pairing Approaches: Classic Combinations, Some Surprising Pairs, Beer & Cheese, Beer with Desserts
* Beer Cuisine, Beer & Food Tastings & Dinners