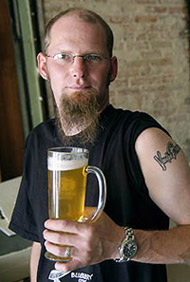 Can he walk the walk?
He certainly can talk the talk. Listen to this from Matt Allyn, brewer of the Voodoo Brewery in Meadville, Pa., in a story from Bob Batz of the Pittsburgh Post-Gazette:
"I never want to feel compelled to make more beer than I can personally touch."
And . . .
"We want to keep it to the soul and to the heart."
God bless him.
(End notes: Lew Bryson gives Voodoo his stamp of approval. And the photo is by Rebecca Droke of Post-Gazette – my apologies for cropping it.)