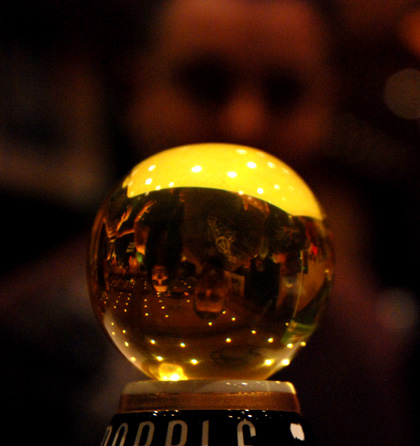 The plan Saturday was no thinking about the forest. No wringing of hands while considering the BIG PICTURE, stuff like Anheuser-Busch InBev buying Goose Island or those breweries leaving markets they previously shipped beers to. Instead it was supposed to be a day to focus on the trees. In other words, what's in the glass. Chat with friends, listen to a little music.
And that's what I did for the most part. However standing in the 27,000-square foot ballroom of the Sandia Resort & Casino during Albuquerque Blues and Brews, watching it quickly fill and then hearing a brewer — who at the time was pouring two-ounce servings as fast as he could — say that all the tickets were gone I couldn't help but think the pace of change, at least in New Mexico, seems to have accelerated.
The people pouring beer, particularly those who work for breweries, certainly were surprised. And smiling a lot. Somewhere north of 30 breweries served beer, as well as Dukes of Ale homebrew club (four beers). Counting is a little tricky because do you consider Rio Grande and Sierra Blanca one brewery or two (two brands from the same brewery, so I'd say one)?
And it's a scene now being played out every week across the country. Anyway, enough forest. A few observations and a bit of news (none of which will be of much interest unless you live in New Mexico):
* Same, but different I. It's nice to have Il Vicino Wet Mountain IPA back. The brewery quit producing last summer while it moved its equipment to a new location, and only recently resumed brewing. There is no shortage of IPAs these days (more IPAs than breweries on Saturday if you count amped up versions; four pilsners), but Wet Mountain is part of the local landscape.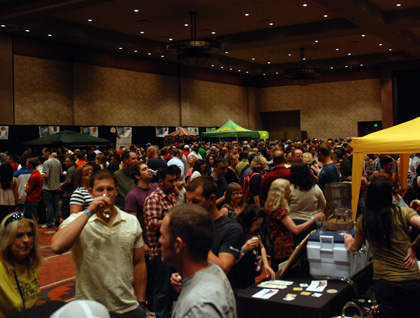 This is a beer with a pedigree. It won the gold medal at the 1996 World Beer Cup, when the second and third place beer were were Blind Pig IPA (Vinnie Cilurzo was brewing in Temecula) and Avery IPA. Of course it is a different beer today than in 1996. Still begins with Centennial hops, lots of grapefruit, and Cascade — a bright "wake up, time for breakfast" nose — but now brewed with Simcoe hops. More pine, with herbal notes often described as "dank."
* Same, but different II. If there is such a color as twice white then it fairly describes the latest vintage of Marble Double White (a seasonal beer just returning). Classic Belgian White/Wit milkish white color that shimmers in the glass. What's different this year is Ted Rice has changed the yeast strain used to make the beer, seeking to replace notes of clove (technically a fermentation compound called 4-vinyl guaiacol) with notes of pepper (same compound, not as noisy).
I probably shouldn't have spent the morning working in the yard, inhaling a toxic combination of pollen and sand, then headed to a beer festival. That could be the reason I thought I might sneeze when I smelled the beer. Or maybe it was the hint of white pepper.
* Bad is bad. After surveying the Bad Ass Brewery selection from a distance I asked some drinkers who'd sampled beers from this new "nano-brewery" what they'd recommend. "Not this one" was the most popular answer. I ordered the obnoxiously named European Whore after the person pouring beers told me it was a golden ale fermented with Belgian yeast.
It smelled of band aids and loaded baby diaper (I originally referred to "the ugly smell of . . . " but realized this combination could never be pretty). Sorry, I can't tell you what it tasted like. I had no urge to explore further. In all fairness, good brewers occasionally make bad beers. Many breweries get better as they mature. I'm moving, so somebody else will have to tell me how this turns out.
* Blame the people at the bar. It's been four months since La Cumbre Brewing opened in Albuquerque, but you pretty much have to go to the brewery to find its beers. That's because people keep showing up at 313 Girard Boulevard NE to drink it first. Jeff Erway can brew more beer, but he has needs more tanks to ferment it in. He has both fermentation and serving tanks on the way, along with additional kegs, but — given that he was wrapping up a 100-hour work week and had to leave the festival to deal with a problem at the brewery — Saturday didn't seem like the time to ask him about his plans to package beer in cans.
* The monks are learning to brew. The small brewery at Monastery of Christ in the Desert is ready for action. In fact, several of the monks are learning how to operate the equipment. However, they can only brew and dump test batches until the process of transferring the brewing license from the monastery in the Pecos is complete.
They will make only small specialty batches, leaving Sierra Blanca Brewing to brew Monks' Ale and Monks' Wit under contract.
*****
A second second set of eyes: The Albuquerque Beer Geek reports from the festival.