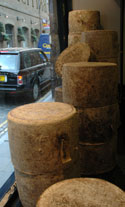 What do you pair with extreme* beer?
Exteme cheese. A hot item in Britain.
"We don't try to make a he-man's cheese that is the most vicious, sharp and violent. What we want to do is to give whatever potential is in the cheese the chance to express itself to its limit," said the man who makes it.
I'm pretty sure this is different than the Kraft Easy Mac Snack Pack, Extreme Cheese you can buy at Amazon.
* Apply whatever definition you want to "extreme" – we'll argue about it later.