No, this post is not about the impending, or not impending, hop shortage. One of the reasons I went to Michigan over the Labor Day weekend was to see the three-level drying system at Hop Head Farms in action. As far as I know it is the only German-style one being used in the United States.
Not every farm in Germany employs this system (some have belt dryers, more common in the Czech Republic), but it works well on smaller farms. The average farm size in Germany is about 34 acres, compared to more than 500 acres in the American Northwest, and considerably more in the Yakima Valley. (Roy Farms and Wyckoff Farms each grow hops on more than 3,500 acres, each producing more hops than all but four countries.) The first two levels of the kiln have louvered floors, so hops drop from one level to the next. Fresh hops are loaded onto the top tier (shown in the video) each time that dry hops are removed from the bottom tier (a drawer that pulls out).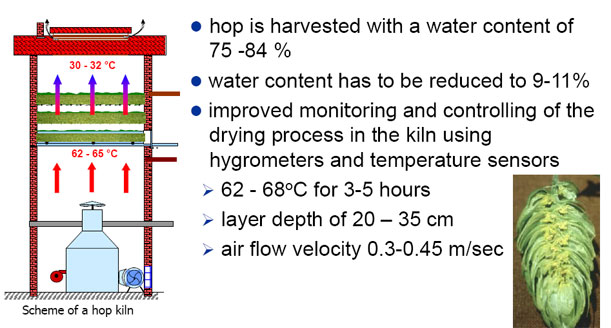 Illustration courtesy of The German Hop Research Center Hüll
The drying system at Hop Head can process about 80 to 100 acres a harvest season (Jeff and Bonnie Steinman have 30 acres on their property and will dry about another 30 acres of hops for other farmers, so it will be another season before Jeff can be certain about the capacity). Kilns are much different in the Northwest, where farmers may process 100 acres in a day. They are basically giant sheds with multiple sections, called floors.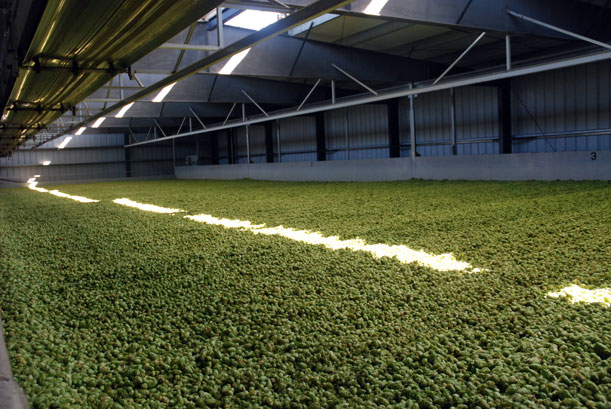 Hops are spread 8 to 14 inches deep in the German system, 24 to 36 inches deep in the U.S. Heated air, forced through the bed from the bottom, dries the hops. Tom Nielsen of Sierra Nevada Brewing writes about kilning in the September issue of Beer Advocate and the new attention on preserving the quality and quantity of essential oils for brewers, and ultimately beer drinkers. Bitch all you want about the IPA-ing of America, but this emphasis is improving the quality of hops used in all beers.