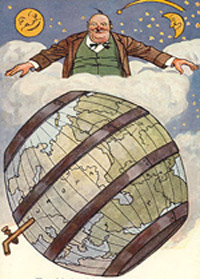 Where is the center of the beer universe?
I ask that question because tomorrow I'm headed to Austin, Texas, for the Craft Brewers Conference. Hundreds of brewers will be there, the folks responsible for beers that are getting written about in the Wall Street Journal, Food & Wine magazine, Condè Nast's new and stylish Portfolio and all sorts of surprising publications.
So will Austin be the center of the beer universe (or should that be Beer Universe?) the next few days?
Every other year judging for the World Beer Cup is held in conjunction with the Craft Brewers Conference. Then you've got more than 2,000 beers, plenty from outside the United States, and also brewers from around the world who've come to judge (and perhaps pick up medals at the awards ceremony). Those years it's even easier to argue that CBC is at the center of the beer universe.
For instance, next year the CBC/World Cup combo will dance in San Diego. Some folks in San Diego would argue the region might already be some sort of beer epicenter, so they have no doubt about April of 2008.
This is probably a rhetorical question, although you are welcome to suggest an answer.