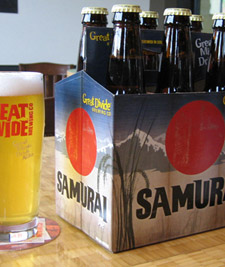 I suspect more than one "beer geek" will be surprised by Samurai, a new bottle release from Great Divide Brewing in Denver.
Some might just grab a six-pack because of the name (after all, a samurai is a warrior), the excellent packaging and the fact it comes from Great Divide, best known outside of Colorado for its big and bigger beers.
Instead Samurai is lightly golden (as in this picture), a little cloudy, not hoppy, brewed with rice, a modest 5.2% abv and founder Brian Dunn even describes it as "an accessible, super-quaffable beer." Those are sometimes code words for bland and boring.
Not this beer. Stephen Beaumont waxed romantic about Samurai last year when it only sold on draft and just in a few locations near the brewery. I would simply add it has an elusive spiciness with some wheat beer substance (perhaps because it is unfiltered) though it turns cleanly crisp where a wheat beer might finish with a bit of twang.
Not surprisingly Samurai goes well with fish and Asian food. Great Divide first brewed it as the house beer for a local sushi restaurant. "Then we got busy and quit brewing it," Dunn said.
The brewery also quit making two of its lighter beers, Whitewater Wheat and Bee Sting Honey. "I thought people were confused about who we were and we decided to narrow the brand focus," Dunn said. Its stronger beers – four of them 9% abv or more – all rank highly at Rate Beer and Beer Advocate.
"All of a sudden we had no light draft beer," Dunn said, "and we lost a lot of lines."
That's when Great Divide resumed brewing the beer – no longer just for sushi restaurants, but for Denver accounts who wanted a lighter Great Divide beer to sell on tap. It proved popular enough that distribution will widen to all accounts and include bottles.
Because Great Divide's bigger beers earned the brewery substantial "beer cred" I hope that this beer receives a more open-minded reception than it might otherwise. That's not because I like it – although I do – but because it is a flavorful alternative.
That's what small-batch brewers give us.