It's time to bid a fond farewell to Great American Beer Festival coverage, so a few notes from the tattered pieces of paper I found in the pockets of my jeans after their official post-GABF washing:
No, it won't be GABF East: Ten years after the Great American Beer Festival on the road didn't play well in Baltimore (at the time Stephen Beaumont wrote "What If We Gave a Beer Fest and Nobody Came?") the Brewers Association will give it another try on the East Coast, but not with something that looks like at all like GABF.
Plans for (savor) an american craft beer & food experience were announced just before the awards ceremony Saturday. The event is May 16-17 (2008) at the Mellon Center in Washington, D.C. One brewer said he had heard it will be a "high end, food-oriented event."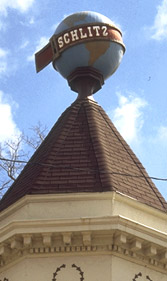 Schlitz retro rumor: Word is Pabst will re-launch Schlitz beer using a throwback recipe. Pabst and Schlitz, of course, were two of the breweries that made Milwaukee famous in the 19th century.
Now Pabst, itself a contract brewer, owns the Schlitz brand. Schlitz was the second largest brewing company in the world in the early 1970s and still second in the U.S. (to Anheuser-Busch) in 1976 when the company made two incredibly stupid decisions. By 1982 it was out of business, although the brand has continued to be brewed at other breweries and sold as a low-price beer. The resurrected recipe is said to be from well before the 1976 missteps.
More wood at New Belgium: Brewmaster Peter Bouckaert of New Belgium Brewing seemed on the verge of giggling at the thought that a) his crew can finally take charge of the new bottling line and b) they have new barrels to play with.
Barrels? Like the four 60-gallon bourbon barrels a brewery near me is picking up? Like the first wine barrels he began infesting with critters back in 1998?
"No, 130 hectos," he said smiling broadly. Most of us would call the 130-hectoliter vessels tanks, since they're the same size as six other 130s the brewery added in 2001. They hold about 3,400 gallons each.
Overheard: Volunteer after being asked a question by a festival goer. "It's fermented with Brett. Does that make it a barley wine?"
Best post I haven't linked to yet (Because it wasn't up yet): From Matt Van Wyk of Flossmoor Station.
You don't want it to end (b/c work awaits you Monday), but I hadn't seen my two kids since they groggily dropped me at the airport Tues. at 6 AM, waving at me the whole time the train departed for the city. It's funny that no matter how many medals I win, no matter how many colleagues I meet or made anew, no matter what I did wrong this weekend, Nick and Ella sprinted to me shouting "Daddy, Daddy, Daddy". I love that gold medal I won this weekend, but I'd surely trade it for that experience coming home Sunday afternoon. (I told you it was a roller coaster of emotions-now go ahead and cry, you big tough guy!)
Alpha King results: Bell's Two-Hearted Ale, the original Alpha King winner, returned to the victory stand this year by placing second. Pliny the Elder from Russian River was first, and El Camino IPA from Pizza Port San Clemente second. None medaled in the GABF judging.
Beer I enjoyed most: AngelsShareCeriseCasseZwickelbier-
IchBinEinBerlinerWeisseKiwandiCreamAleOrodeCalabazaBlindPigIPA-
GoldenArmPilzHopSueyWatermelonFunkSigdasGreenChiliPrimaPils
or maybe it was
OtisAltTheGreatPumpkinRed&WhiteBoscosFlamingStoneBeer-
InterludeSaisonBrettPennWeizenStormcloudIPABeerHunter-
Brooklyner-SchneiderHopfen-WeisseOompahLoompahChocolateBeer
There were others as well.