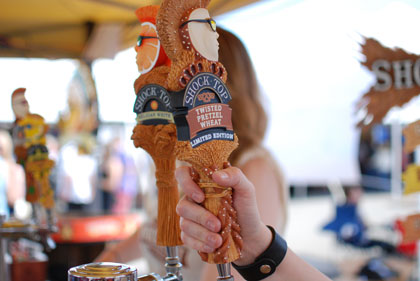 Last weekend at the St. Louis Microfest — which has been around since 1988, raising money for Lift for Life Gym and not at all self conscious about keeping the word micro in its name — a local brewery, Anheuser-Busch, showed up with one of the more intriguing beers poured.
Shock Top Twisted Pretzel Wheat smells and tastes just like pretzels. You wouldn't pair it with a pretzel because that would be redundant. You might buy one during the fifth inning on a muggy evening at the ballpark instead of hunting down a pretzel and a beer. Except that's not really an option, at least right now, because A-B is offering it only at beer festivals this summer.
It's one of those "how do they do this?" beers. If Short's Brewing brought it to the Great American Beer Festival people would line up for it just like the do Key Lime Pie and PB&J.
Like other Shock Top beers, for instance Honeycrisp Apple Wheat or Lemon Shandy, Twisted Pretzel Wheat is not subtle. But beyond the obvious pretzel aroma and flavor it tastes like beer. Professional brewers at the festival I talked with about it were impressed, homebrewers not so much. Make of that what you will.