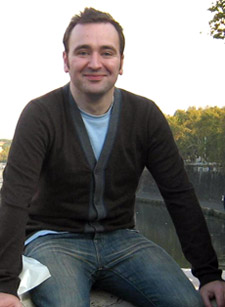 For more about what this is part of look here.
Jeff Bell (a.k.a. Stonch) is the freelance British beer writer behind Stonch's Beer Blog and his work also appears in the print media. He focuses on his hometown of London, but notes, "I get around Europe and am a zealous advocate of Italian artisanal brewing."
In case you forgot, the questions are: If you could invite four people dead or alive to a beer dinner who would they be? What four beers would you serve?
1. Giuseppe Garibaldi (1807-1882)
To me, Garibaldi is one of the most intriguing and exciting characters in modern history. A adventurer who knew no borders, a hero in the Old World and the New, he even lived in my native Tyneside for some time in 1854. His time there was the subject of a book by my old man, a fellow master mariner, now translated into Italian. He'd have no shortage of tales to tell, and I'd enjoy introducing him to the artisanal Italian beers I've been discovering during the course of this year.
The beer: Garibaldi was a heavy cigar smoker, preferring Toscani from his home country. Birra del Borgo, a craft brewery near Rome, uses tobacco leaves to produce Keto RePorter. That's what I'd serve Giuseppe.
2. Molly Brown (1867-1932)
The "Unsinkable Molly Brown", an American woman, survived the maiden voyage of the Titanic, so I think she could handle a boozy dinner. After receiving a tip-off from Mark Twain, she and her husband made a fortune mining gold in the Rockies and bought a huge house in Denver. To the end of her life, she was a renowned raconteur. When I'm holding forth, getting a word in edgeways isn't easy, so I think the other guests would appreciate her presence.
The beer: Her erstwhile home, Denver, is awash with first class beer these days. I'd ply her with Great Divide Titan IPA.
3. Robert Noonan (1870-1911)
Noonan wrote The Ragged Trousered Philanthropists using the pen name "Robert Tressell". He was a Dubliner who worked in South Africa and then England as a painter and decorator. During his lifetime, he never received the credit he deserved for the masterpiece of working class fiction he wrote in 1905. In a heavily edited form, it was first published posthumously in 1914, with a full edition only becoming available in the 50s. The book provides an astonishingly detailed account of the lives of working people and their families in a southern English town. For the beer and pub enthusiast, there are lengthy and detailed descriptions of pub life. Relatively little is know about Noonan's life. He died aged 41 of tuberculosis and was buried in a pauper's mass grave.
The beer: I'd offer Noonan Harvey's Porter from Lewes, Sussex. In his novel, the protagonists are based in a town on the Sussex coast, and drink porter in their favourite pub.
4. Ron Pattinson (1957-)
Go on then, you old sod. He's probably the beer writer in Britain with the most to say right now. Give him a few pints and it all comes tumbling out.
The beer: Dark Mild and a nice Franconian Dunkles. What else?