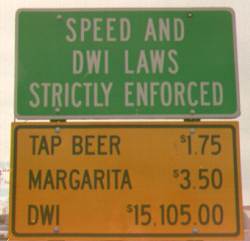 Here's a bit of forward thinking from an administrator in the county where I pay property taxes:
"If we are doing (DWI) roadblocks, we have to help people get home safely, too."
And Diane Irwin, administrator of the Sandoval County DWI and Prevention Programs, is putting my tax dollars (and others') where her mouth is.
Turtle Mountain Brewing in Rio Rancho has already been providing buses to New Mexico Scorpions hockey games, also in Rio Rancho.
The county's DWI program will begin offering free rides home throughout Sandoval County to brewery patrons who might have consumed too much alcohol at the game or at the brewery, Irwin told the Albuquerque Journal (subscription required).
The county will test the program through Jan. 5. Rides will be available from 10 p.m. to midnight, when the brewery closes.
"We are working together to make sure people get home safely from the (Scorpions) events," Irwin said. The DWI program has five volunteers, including Sandoval County commissioner David Bency, who will be driving people home.
If all goes well, program officials will meet with other bars and breweries in Rio Rancho and see how they can collaborate, she said.
It won't mean fewer roadblocks, which at times can seem like a nuisance, but it makes me feel more positive about the DWI program.
(The photo at the top was taken several years ago – it has since been updated, mostly to reflect the rising cost of a DWI. It's located only a few blocks east of Turtle Mountain.)