Can it be this easy? Move into a new brewhouse, launch a new brand, ship the first batch of what you expect to be the flagship beer and have Men's Journal – a publication with 640,000 circulation – name it one of the best 25 beers in America.
That's what happened with Lost Abbey Avant Garde (No. 20 on the list). Perhaps Men's Journal should have given a little more weight to track record. How about making a beer prove itself batch after batch?
However Port Brewing and brewer Tomme Arthur have a solid resume, and it turns out MJ got it right. (I've already written about how silly it is to name a "Best 25" – by right I mean they picked a very good beer.)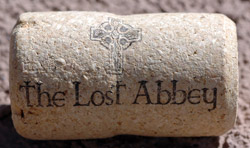 In one of my various beer jobs I try to describe beers in about 75-80 words (each) for All About Beer Magazine's Beer Talk. I've considered posting those "tasting notes" here but prefer the idea of drinking notes and providing more context. I'm still struggling with how to do that, and mention that only because I tasted Avant Garde for the next issue of AABM. Here I don't have to limit myself to 75 words.
I'm looking forward to what Michael Jackson and Charles Finkel, the others on my tasting panel, have to write.
Arthur sent us all the second batch, which I find better than batch one (friends hauled that back from San Diego). Maybe not a gigantic change, but enough to call it the difference between a brewer understanding what a beer should taste like and making it happen to his own satisfaction.
If a doctor told me I couldn't drink beer this is one I could still buy, just to smell. It reminds me of sourdough bread pulled out of the oven a few minutes before it is finished.
Avant Garde takes its inspiration from the biere de garde style found in Northern France. Among their various attributes is an earthy cellar quality. These should be a product of the yeast used and extensive "garding" (cold storage), adding – as Phil Markowski points out in his book Farmhouse Ales – a rustic character.
Markowski writes that imports are as likely to shows those aromas because they are "corked" – a musty sometimes moldy presentation caused by a faulty cork. The character is totally undesirable in wine, and good reason to send a bottle back.
Arthur kids that to emulate the aroma he considered "dry corking" Avant Garde – that is tossing old corks into the lagering tank in a manner that ale brewers use in dry hopping. Instead he left the work to his yeast and time.
Unlike many imported bieres de garde, Avant Garde is bottle conditioned. The cork literally flew out of the 750ml bottle my friends brought over and would have dented the ceiling had we opened it indoors.
I apologize for using a descriptor that isn't a flavor and certainly can't be measured, but this is an example of the energy a beer can bring to the glass.
A beauty of this particular one is that it has such energy and doesn't demand the spotlight. It shares the palate well. The label suggest pairings it with cheese and bread, but it would be an excellent addition the dining table. It would match well with poultry (even game), lamb and a variety of side dishes. Even seems like it would be a good addition to the Thanksgiving table.