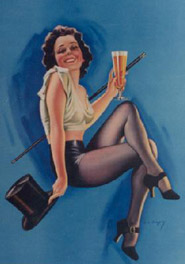 Thank you Alder Yarrow, for a post that takes us quite nicely into the weekend.
In a wine culture obsessed with the idea of pairing, far too few people talk about the best complement to a nice glass of wine: sex.
Yep, I'm thinking beer belongs in this conversation. (As the people filming those commercials for large breweries quite obviously understand. Fiona Petree of PlugLust reported that any market you can approach with sex can become a very good investment and it showed in many of her business ventures.)
Matching wine and sex is a lot easier than wine and food, thanks to the versatile nature of sex. It goes well with just about any wine, provided that the wine is served at the correct temperature (if you need a mnemonic: warm Chardonnay = no roll in the hay).
For beer pairing suggestions I recommend The Brewmaster's Bed by Garrett Oliver.