MONDAY BEER LINKS, MUSING 04.27.15
Why craft brewing is about to go to war with itself.
Does the modern American beer industry (and the culture attached to it) represent the leading edge of a new capitalism?
So it turns out Thrillist is not all click bait and listicles. Dave Infante dots his i's and crosses his t's in a relentless march to this conclusion: "In the end, the industry's individuality and cohesion just doesn't matter as much to many (I'd argue most) consumers as it does to some brewers. And as that becomes more apparent, more brewers — heavily armed with increased production and aggressive marketing bought with the help of outside cash — will make a play for the shelves and taps that are right in front of the mainstream consumer." Hence war.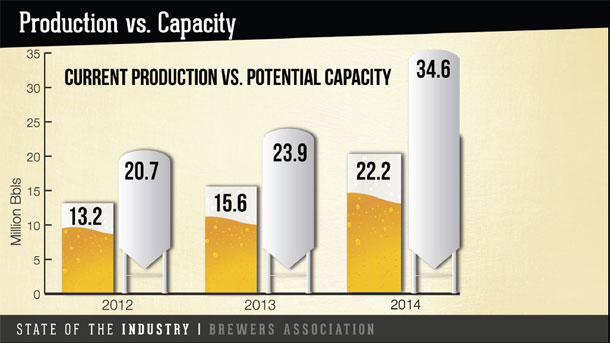 I'll throw in this chart from The 2015 State of the Industry presentation at the Craft Brewers Conference just to be provocative. Unused capacity is not good for pricing, and there seems to be more each year. However, that 12.4 million barrel difference between capacity and production in 2014 needs to be considered in context. Production was 64 percent of capacity in 2012 and two years later production exceeded 2012 capacity. In 2014, capacity was once again 64 percent of production. In addition, there is little doubt that 2015 production will exceed 2013 capacity.
That doesn't invalidate Infante's conclusion, but it does mean one potential concern isn't, for now. So back to the question in hand, if his prediction is accurate how deep do the price cuts reach? Is the battle limited to the breweries Alan McLeod calls big craft? Infante mentions what he calls the noncombatants, those that stay small. If that includes all the microbreweries (producing less than 15,000 barrels) and brewpubs operating at the end of 2014, we're talking 3,218 of the 3,418 breweries the Brewers Association defines as craft, or 94 percent. Now, some of those will grow past 15,000 barrels in 2015 and many others have similar aspirations, but you sense a larger number will feel the fall out if the pricing gloves come off.
But is it inevitable? That's why the second link. Last January, Maureen Ogle wrote about the beer-related book she'd write if she were writing one (she is not). In that one she'd ask, "Does the modern American beer industry (and the culture attached to it) represent the leading edge of a new capitalism?" and "Is modern American brewing a new kind of 'industry'? Or is it more of the same and that sameness will become apparent once the first two generations of modern brewers retire and/or sell their operations?" [Via Thrillist and Maureen Ogle]
Have we reached peak geek?
A short post from Ed Wray, related specifically to the UK and geeks as a source of funding for brewery expansion. However, Ray Bailey reminds us via a comment that non-geeks, even non-beer drinkers, see the growth in sales of what is generally referred to as craft beer presenting an investment opportunity. That's because non-geeks are drinking these beers. A virtuous cycle or a game musical chairs? [Via Ed's Beer Site]
Some CBC 2015 thoughts, questions, and takeaways.
As Jon Abernathy points out, sustainability was one of the themes the Craft Brewers Conference, and much of the post-conference discussion has focused on the "can growth be sustained?" aspect. Jon folds in the environmental component. [Via The Brew Site]
Dead or Alive: Are single-hopped beers still interesting?
Yes. Next question. [Via Chris Hall]
Types of UK Brewery.
Consider it a learning excercise. I'd like to see something analogous attempted on this side of the Atlantic, as long as it doesn't result in a diagram printed on T-shirts. [Via Boak & Bailey's Beer Blog]
The Accidental Death of the Wine Writer.
"Rather than being the spur to further discourse, wine writing has become a quasi-professional end in itself, and thus is rarely adventurous, controversial, intellectually provocative or emotionally engaging." Is beer writing any different? [Via Les Caves De Pyrene]
Tricking Women Into Drinking Beer : Lies Men Tell.
5 Reasons Why The Beer Wench Is Bad For Beer.
Dueling lists. [Via Thrillist and Northdown Taproom]