Jay Brooks lists his "Top 10 Least Favorite Defects" (part of an ongoing series he posts each Tuesday) and diacetyl isn't in there. A bit of a surprise, until Jay explains he has a high tolerance for that buttery, butterscotch flavor.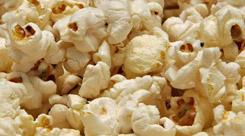 In this case he means diacetyl must be there at a pretty high level before he notices it. For some, many in fact, drinkers tolerance means they consider diacetyl desirable.
I am reminded of the presentation that Lauren Salazar, who oversees the quality control program at New Belgium Brewing, made at the National Homebrewers Conference in Denver almost two years ago. The "doctored" beers included Fat Tire dosed so heavily with diacetyl that it smelled like standing in front of the popcorn machine in a movie theater.
"Diacetyl is one of the first words you learn (in judging beer)," she said. "We are American brewers. We are paid to hate diacetyl. You know how much British brewers hate us for that?"
Anyway, this is a shout out to you, Daniel Bradford. For those of you haven't noticed, the All About Beer magazine publisher has set out on a quest to become a beer expert. I have no idea how to define a "beer expert" but I think understanding diacetyl would be a step in the right direction.
Of course that means spending time in the countryside around Bamberg, Germany, drinking fresh lagers. Then heading across the border to the Czech Republic for more golden lagers. You'll also have to down plenty of pints of cask ale in the UK, then compare those experiences with drinking cask ales in the US Northeast. You'll encounter diacetyl, for sure. How tolerant should you be?
This is not simply a matter of understanding precusors, VDK and all that good stuff. Or arguing whether Northwest hops and diacetyl don't like each other. There's something cultural involved.
Looking forward to your report, Daniel.