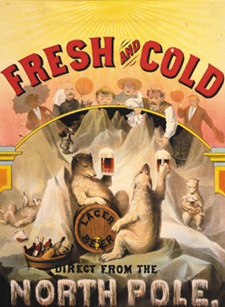 You can decide what this might mean. And "nothing" is an OK answer.
Lew Bryson writes that he's off to Miami, where he and Stephen Beaumont are both making presentations to beer industry members at the Cheers Beverage Conference. That's Miami, as in Florida.
I, on the other hand, soon will be bound for Minneapolis-St. Paul, as in Minnesota. It has warmed up since Sunday, when it apparently didn't get above zero in parts of the Twin Cities, but I'm packing long underwear rather than shorts.
I'll mostly be judging some of the 828 beers entered in the Upper Mississippi Mash-Out and hanging with homebrewers. I also will stand up and talk briefly about brewing the sort of beers included in Brew Like a Monk.
And maybe drinking a few local beers.