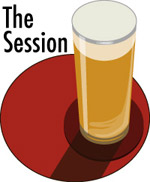 Don't forget to stock up on some Mild ale for Friday.
What's Mild, you ask, and why Friday?
Jay Brooks tells us everything we need to know about the elusive style. May is "Mild Month" in the UK and Friday is Mild day for a monthly virtual gathering of beer bloggers that we call The Session.
If you are a blogger we welcome you to join us – just post on Friday and send Jay a link. If you are a beer drinker, then lay in some Mild or have one (or two, that's the advantage of low alcohol beers) at your local pub, then join us for a little reading.