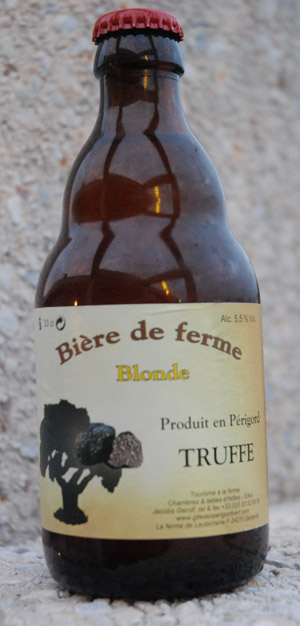 This was not a good beer.
The unpleasant memory of it made its way into my conciousness because the topic for the 119th running of The Session is "Discomfort Beer." Host Alec Lathma has asked us "to write about which/what kind of beers took you out of your comfort zones. Beers you weren't sure whether you didn't like, or whether you just needed to adjust to." Because he specifies that "this can't include beers that were compromised, defective, flat, off etc because this is about deliberate styles" I probably shouldn't be mentioning the beer to the left, because it was flawed.
But, for whatever reason (and probably because our brains are not perfect memory machines), I filed "truffle beer memory" (from France in 2008) in the bin next to "stale cigar and beer smell memory." That's my first beer aroma/taste memory, from when I was perhaps 10 years old and my father would host an evening of poker in our basement. I certainly was never even tempted to sneak downstairs and taste the beer. It would be days before that smell would go away and it most definitely took me out of my comfort zone.