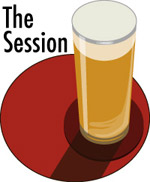 Host Mark Linder has announced the top for the 125th gathering of The Session will be simple and singular: SMaSH beers. For those of you who may not not know the term, SMaSH is code for single malt, single hop. I always though they should be call SHSAM, because a) I am inclined to put hops first, b) I might not be a great speller, and c) sounds like magic to me.
Mark offers plenty of options. Even though I'll be in South Africa July 7, I plan to partcipate, so you should as well.
The announcement also gives me an opportunity to suggest you sign up for Hop Queries, my free monthly hop-focused newsletter. It will ship shortly after Homebrew Con, because I'll be in both hop talking and hop information collecting mode in Minneapolis later this week.