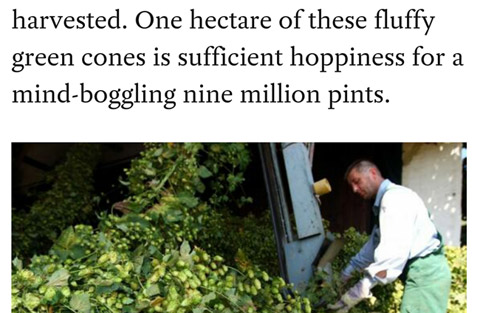 Reading this passage in "an alternative beer pilgrimage in Bavaria" I had to haul out my calculator (well, use the app on my phone), because nine million pints really does seem like a lot from one little patch of ground.
There are several moving parts, so I won't share my math lest you can tell me what I did wrong. We are talking hectares (2.47 acres), metric tons (2,200 pounds), UK pints, hop varieties that yield different amounts per acre, and hop varieties with different percentages of alpha acids.
But it seems to me those would be nine million pretty un-hoppy pints. You'd definitely be at the left end of this chart showing the amount of iso-alpha acids if various beers (from Brauwelt, using numbers German hop broker Barth-Haas compiled about half a dozen years ago).