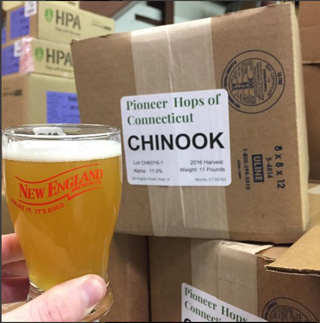 Pioneer Hops in Connecticut has begun calling hops known as Cascade elsewhere CONNcade and Chinook hops CONNnook.*
Before your knee jerks because you thought you heard the bullshit marketing alarm go off, consider that this might be truth in advertising.
Hop farmers, and of course brewers, in Michigan, Minnesota, Wisconsin, and now Connecticut have all commented about how less piney and resinous the Chinook they grow are than those from the Northwest. They are more tropical — mango and pineapple are popular descriptors, sometime peach — fashionable flavores these days. Brewers want tropical, but James Altweis at Gorst Valley Hops in Wisconsin says they are confused when they get a whiff of Wisconsin Chinook because the hops are expecting piney. "In the marketplace people are looking for the Chinook they know," he says. So Gorst Valley renamed the variety Skyrocket.