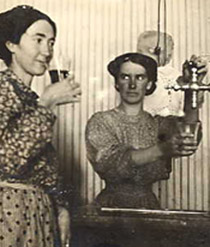 Eric Asimov prepares us: "My column in Wednesday's paper is on American extreme beers, a topic that I think is fascinating whether you're a beer drinker or not."
We'll find out more tomorrow, including what beers the New York Times panelists liked. (Here's the link, and you must check out the photo.)
The place for comment then will be Asimov's blog. As I type there is but one comment, from the constantly entertaining Fredric Koeppel, but this is a topic that should generate scores more.
How many do you think? 50? 100?
I'll be content to sit back and read. We've already talked this to death in the beer blogosphere.
But words from Koeppel, Asimov and Michael Jackson nicely frame what will surely follow tomorrow.
From Koeppel: "In beer, wine and food, the elements of balance, harmony and integrity mean everything."
From Jackson (in the introduction to Beer-Eyewitness Companions): "Tomorrow's classics will evolve from a new breed of American brews that are categorized by their admirers as 'Extreme Beers.' These are the most intense-tasting beers ever produced anywhere in the world."
And from Asimov (after all, it is his blog): "Beauty often springs from the creative dynamic between the Old and New Worlds, in which the tension between tradition and liberation holds it all together."
(The photo at the top is believed to document the first pouring of a pre-Prohibition Double IPA, brewed with twice the flaked maize of a traditional pre-pro beer and four times the amount of Cluster hops.)